Barrett-Jackson Two Decades in Palm Beach
Barrett-Jackson successfully celebrated two decades of their Palm Beach auction April 13-15. As all 622 vehicles offered had no reserve, they achieved a 100% sell-through rate. In addition to the vehicles, 263 pieces of memorabilia were sold for a total of more than $745,000. Along with the vehicles offered, Barrett-Jackson achieved $44.4 million in total sales, setting more than 40 world records in the process.
Included in that amount was the first 2024 Chevrolet Corvette E-Ray 3LZ with VIN 001, offered to benefit DonorsChoose, a charity that aims to help any classrooms in need. 100% of the hammer price of $1.1 million will benefit the charity, along with an extra $50,000 donated by noted philanthropist and longtime Barrett-Jackson VIP, Michelle Mauzy.
The 2024 Chevrolet Corvette E-Ray 3LZ during the auction:
The three-day event saw a variety of well-known automotive personalities take turns hosting, including Chip Foose, Rita and Shawn Shelby – the grandson of Carroll Shelby – Congressman Brian Mast, and actor Chuck Zito.
The Top Ten most expensive collector cars sold, not including the charity offerings, were as follows:
Top Ten Sales for Barrett-Jackson in Palm Beach 2023
Most expensive non-charity car sold by Barrett-Jackson in Palm Beach 2023: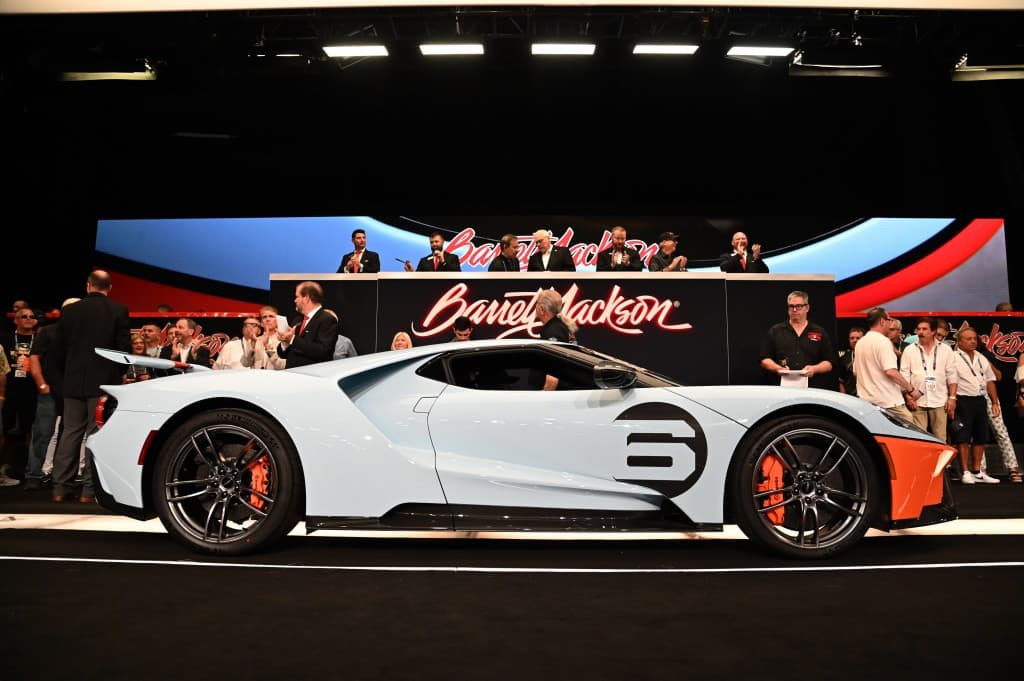 Barrett-Jackson's next auction will be held in Las Vegas, June 22-24, at the Las Vegas Convention Center. In addition to accepting consignments for the Las Vegas sale, Barrett-Jackson also announced the dates of their upcoming New Orleans Auction – September 28-30.