Jim Taylor Offering by Broad Arrow Auctions
Broad Arrow Auctions recently announced a single-owner offering auction of the cars of Jim Taylor, scheduled to take place October 14-15 in Gloversville, NY. More than 120 cars will be offered along with a vast collection of memorabilia. Mr. Taylor is a well-known figure in the collector car world, having participated in numerous rallies and exhibited his cars at the most prestigious shows.
One of the most notable things about Mr. Taylor is the quality of cars that will be on offer. He owns examples of some of the most significant cars in automotive history including two Shelby Cobras – each a three-owner car – one of which is a 289 and the other a 427 with fewer than 8,000 miles since new. Mr. Taylor made a point to acquire only the highest quality of car, stating that he learned, "early on that you're better off buying a car that's already done than restoring it yourself." While he has restored a few cars, his focus has primarily been on buying cars that were already restored to a very high quality.
Mr. Taylor considers himself a caretaker of his cars. He told us, "My attitude towards my cars is that we're the stewardship for these cars. It's our obligation to keep them in good shape and running so we can pass them on to somebody else." That attitude lead to his proudest accomplishment with his collection – sharing it with other people. As Mr. Taylor continued, "One of the things I've always enjoyed is sharing the collection with clubs and charities, so I guess the fact that I've been able to share it with so many people is really an accomplishment."
Perhaps the centerpiece of the cars to be on offer is the 1955 Jaguar D-Type Sports Racer. The D-Type is possibly one of the, "most original" examples in existence. A D-Type with such low mileage and as original as this one is virtually unheard of. Having been spared the abuse of the other D-Types that were raced heavily, this is perhaps the best, and certainly most original D-Type in existence.
All of Mr. Taylor's cars are maintained to the highest degree possible. His step-son, Kip Smith, is one of two full-time mechanics who spend their working hours ensuring that every car is in running order. Whether Mr. Taylor plans to take an easy drive over the weekend or participate in another Colorado Grand, every one of the cars is always ready to be driven and enjoyed to its fullest. As Mr. Taylor said, "I have my step-son in charge of the collection and another fellow, John Miller, who are both mechanics and that's what they do each week, upkeep of the collection."
Mr. Taylor was inspired to build his collection by his own enjoyment of Dinky Toys model cars that he collected as a child. At that time he was more interested in the styling and aesthetics of the cars – his passion for the mechanical side of things would come as he grew older – so he compiled an impressive collection of Dinky Toys model cars. At the time they cost around $5 each, a rather princely sum for a kid, and occasionally his father would bring one home from a business trip. Naturally, this lead to a hobby of drawing cars and when he was old enough to drive, Mr. Taylor thoroughly enjoyed his father's 1929 Ford Model A throughout high school.
When Mr. Taylor reached the point in his life at which he was fortunate enough to be able to buy the cars he loved as a child he learned a valuable lesson when looking at an Aston Martin DB3S. He had never spent that level of money on a car so his hesitation ultimately caused him to lose out. When the opportunity to purchase his D-Type came along, he wasn't going to let that happen again.
Donnie Gould of the Broad Arrow Group was the person who found the D-Type when it was available in Columbus, OH. Having known Mr. Taylor for many years and being well-versed in his enjoyment of Jaguars, Donnie took the opportunity right to Mr. Taylor. In the lead up to Thanksgiving of that year Mr. Taylor looked at the car, verified it was the real deal, and in a matter of only a few days the car was his.
Mr. Taylor trusted Donnie Gould to help him find his D-Type and many more cars. Prior to entering the auction side of the collector car market, Donnie restored cars with Mr. Taylor's father. One of the last restorations Donnie completed before his move into auction sales was a 1931 Cadillac V12 Phaeton that currently resides in Mr. Taylor's collection. Their shared history made him one of Mr. Taylor's go-to people when looking to acquire another car, so it's no surprise that the long-term relationship with Donnie, as well as the other people at Broad Arrow Auctions is why they were chosen to represent this offering. As Mr. Taylor put it, "I've had a great relationship with Donnie over the years. Now he's with Broad Arrow and I've known most of them and think they're all good guys." An excellent reason to put his faith in the Broad Arrow Group.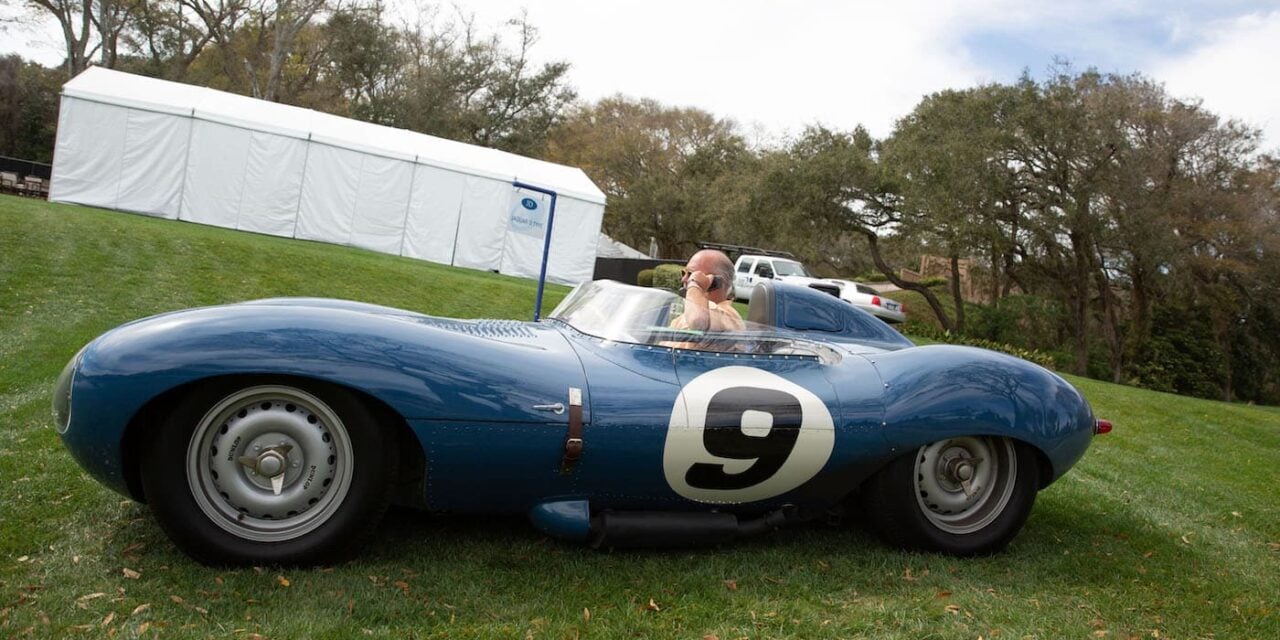 Many collectors have a favorite car that they prefer to drive over the rest of their collection, but Mr. Taylor has a different perspective on it. Whichever car he happens to be driving at any given moment will be his favorite, at least in that moment. He told us that, "Cars are like kids. You love them all for different reasons." Whether he is behind the wheel of his D-Type or the Corvair wagon with a factory four-speed, each car has its own character and offers as much fun as any other.
As much as Mr. Taylor enjoys driving his cars, he's had just as much fun acquiring them. He was fortunate enough to be in the right place at the right time – Maranello, to be specific – when one of two Ferrari 599s that toured North and South America as the introduction to the new model was available for purchase. The 599 is another excellent example of the significance of many of Mr. Taylor's cars. The day prior to purchasing it, that specific 599 was driven on Ferrari's track by Michael Schumacher and his son, current Formula 1 driver Mick Schumacher. Part of the enjoyment of buying that 599 came from the tour of Ferrari's racing shop that he got to experience, including seeing one of their Formula 1 engines connected to a computer at full rev. Along with a tour of Enzo Ferrari's house this experience showed how important that 599 was to Ferrari and how important it will likely be to collectors in the future.
While Mr. Taylor certainly won't be leaving the world of collector cars entirely, he doesn't foresee assembling as great a number of cars moving forward. He plans to keep, "around a dozen cars to drive and do rallies, maybe a show or something," but doesn't see himself buying many more that are not newer, daily-driver cars. This will likely be the only opportunity to view and purchase from an offering with such high standards, both of the cars themselves and how well maintained they are, not to mention the incredible memorabilia that will also be on offer.
Information on everything that is a part of this offering – from cars to memorabilia – will be available on the Broad Arrow Auctions website at broadarrowauctions.com. Information and photos of the lots that will be on offer will be updated in the coming weeks, giving potential buyers plenty of time to pick out their favorites and plan their bidding strategy when October 14 and 15 come around.