Broad Arrow's Porsche Anniversary Auction
Celebrating 75 years of Porsche history is a tall order, but Porsche teamed up with Broad Arrow Auctions to create the Porsche 75th Anniversary Auction. The sale will be held at the Porsche Experience Center in Atlanta on June 10 and is packed with the greatest Stuttgart had to offer over the years.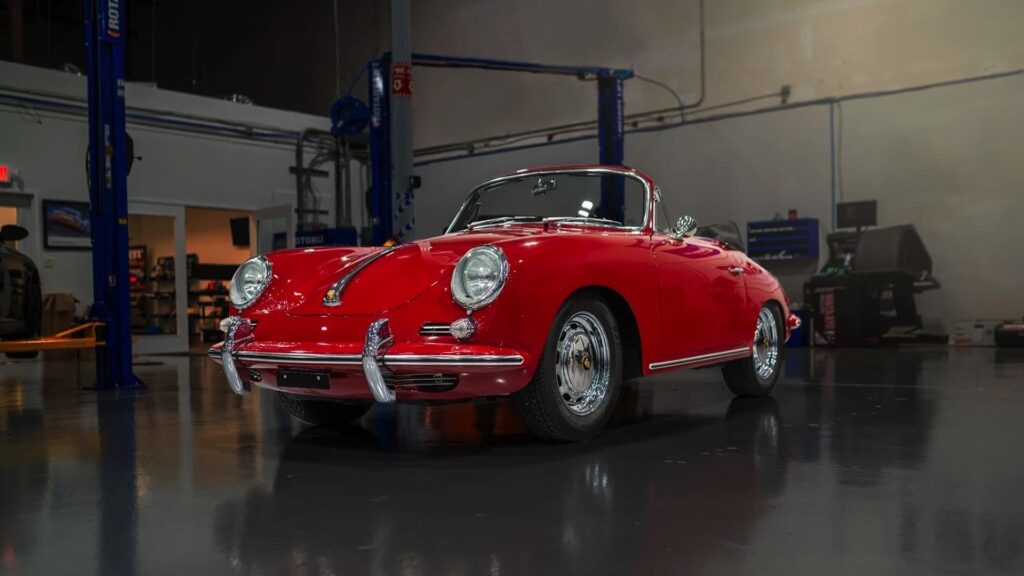 The 1964 Porsche 356 SC 1600 Cabriolet was one of the last and most powerful versions of the iconic 356 model. The SC, which stood for Super Carrera, featured a 1600cc flat-four engine with dual carburetors that produced 95 horsepower, making it the fastest pushrod-type engine Porsche had ever built. The SC also had four-wheel disc brakes, an improvement over the drum brakes of the 356 B.
The 356 SC 1600 Cabriolet was a comfortable and easy-to-drive sports car that combined classic styling with high performance and reliability. It was the ultimate expression of the 356 generation, which ended in 1965 with the introduction of the new 911 model.
The car on offer from Broad Arrow Auctions was finished in Rubinrot paint with black leather interior and was equipped with optional dual "Talbot" mirrors, fog lights, and rode on Dunlop tires. Its engine was replaced in 1965 by the original selling dealer and presents nicely thanks to a complete restoration. The engine and transmission serial numbers match those shown in the Porsche Certificate of Authenticity, which is also included with the car. Estimated at $225,000 – $250,000.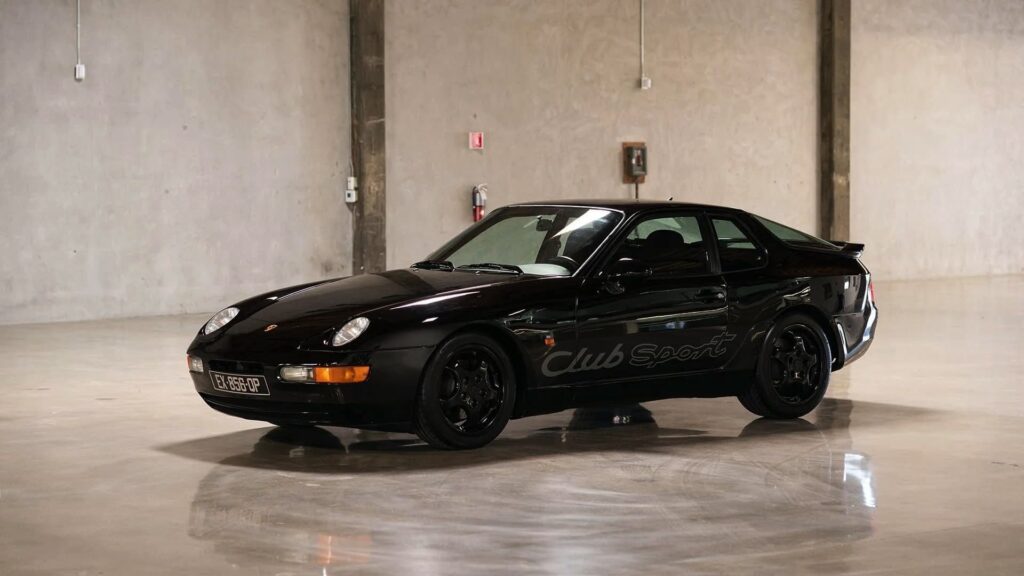 The Porsche 968 Club Sport was a special edition of the 968 sports car that was introduced in 1992. It was designed to be a lighter, faster and more focused version of the standard 968, aimed at enthusiasts who wanted a pure driving experience. The Club Sport had a stripped-down interior, with no rear seats, air conditioning, electric windows or sunroof. It also had stiffer suspension, lower ride height, bigger brakes and 17-inch wheels. The engine was the same 3.0-litre four-cylinder as the regular 968, but with a revised ECU that increased the power output to 240 hp. The Club Sport was praised by critics and drivers for its superb handling and balance, and was named "Performance Car of the Year" by Performance Car magazine in 1993 . The Club Sport was only available in Europe, the UK, Japan and Australia, and was produced until 1995, when the 968 was discontinued.
The car offered by Broad Arrow Auctions is one of only 1,538 equipped with the lightweight Club Sport package that reduced its weight by about 200 pounds. This example also features a radio delete option and manual windows with no air conditioning to increase the weight savings. Originally delivered to Japan and imported to the US in 2019, this is estimated at $80,000 – $100,000.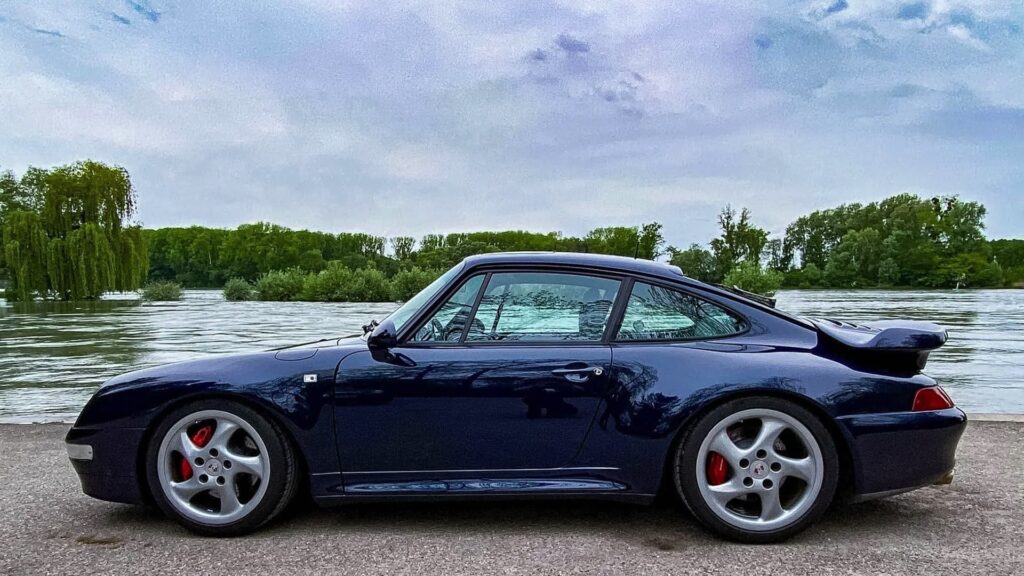 The 1997 Porsche 911 Turbo X50 Exclusive was a limited edition model that featured a more powerful engine, a redesigned body kit, and a luxurious interior. The X50 package increased the output of the 3.6-liter twin-turbocharged flat-six engine from 408 to 430 horsepower, thanks to larger turbochargers, intercoolers, and a revised ECU. The Exclusive package added a unique front spoiler, side skirts, rear wing, and 18-inch wheels, as well as leather seats, and carbon fiber trim.
This example is also equipped with the Motorola 2200 carphone – always a fun throwback. Finished in the rare color of Ocean Blue Metallic with a Nephrite Green leather interior, it's covered about 33,000 miles since it was originally delivered to future-CEO Michael Macht. A very rare and exclusive opportunity to own a car that was built to the finest of Porsche standards, Broad Arrow Auctions estimates this car at $300,000 – $350,000 although we won't be at all surprised to see it sell for more than that.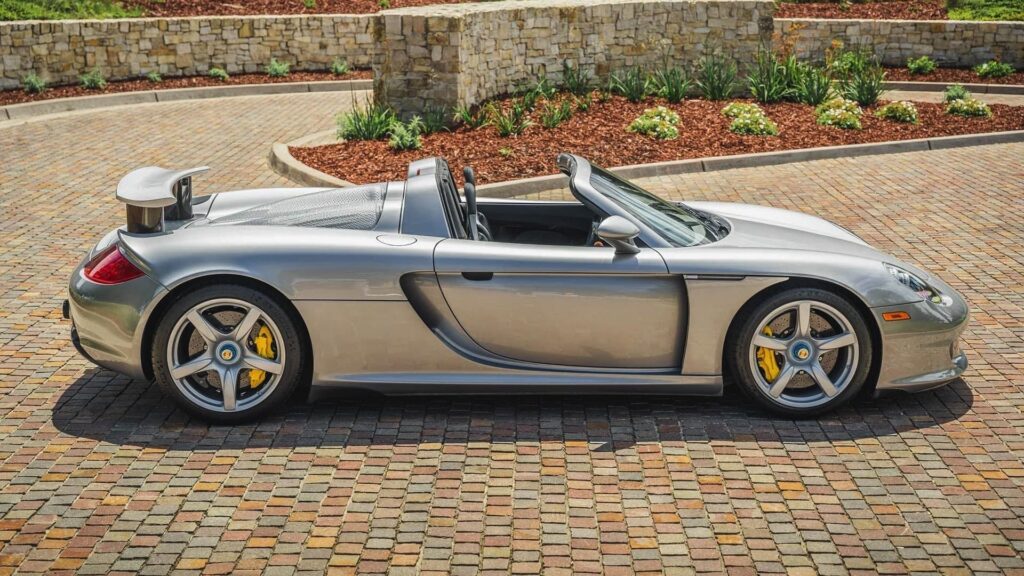 The Carrera GT was inspired by Porsche's 911 GT1 and LMP1 race cars that competed at Le Mans. Powered by a 5.7L V10 derived from an engine developed for Formula 1 in the 90s, it made use of a carbon fiber monocoque and subframe that made it lightweight and rigid.
This example is one of the 477 US-market Carrera GTs that were delivered in 2005 and includes a Dark Grey five-piece Carrera GT luggage set that matches the less common Dark Grey interior. An engine-out service was performed last year and since then it's only traveled 150 miles. This is estimated at $1,000,000 – $1,300,000.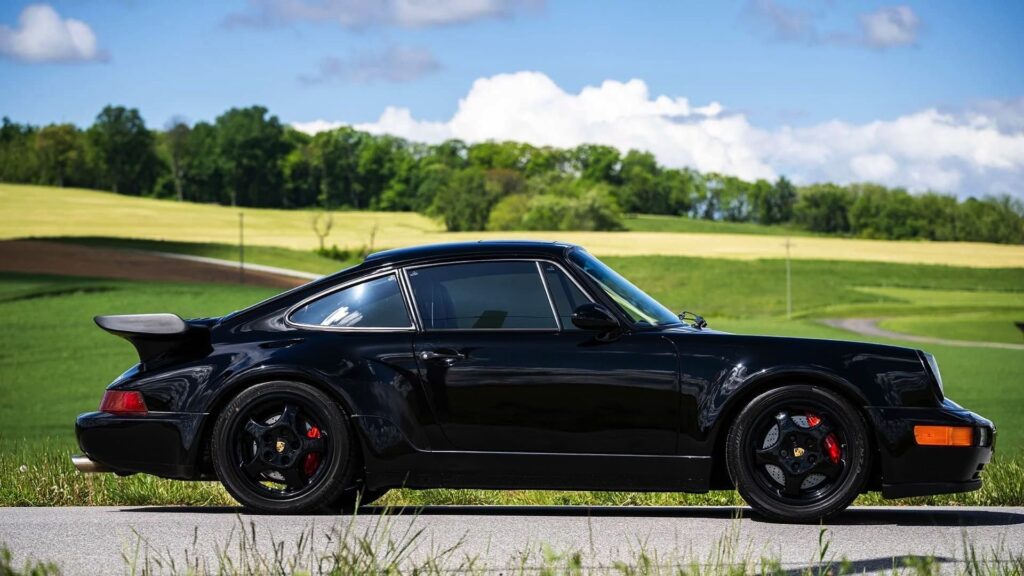 The successor to the 930 Turbo, the 1991 Porsche 911 Turbo was the return of turbocharged engines to the 911 after a one-year hiatus following the discontinuation of the 930 Turbo in 1989. It featured wider bodywork, larger brakes, a distinctive rear spoiler, and a stiffer suspension than the standard 911. It could run from 0 to 60 mph in 4.8 seconds with a top speed of 167 mph.
The example on offer is an extremely well maintained car with fewer than 6,500 miles since new. It includes the optional limited slip differential and electric sliding sunroof as well as manuals, a toolkit, jack, and spare tire. This car was in long-term ownership since 1993 and still presents well in its original black paint with black interior. The grey piping on the front seats, part of the "Z-Order" helps the car really stand out from other 911 Turbos. This is justifiably estimated at $275,000 – $325,000.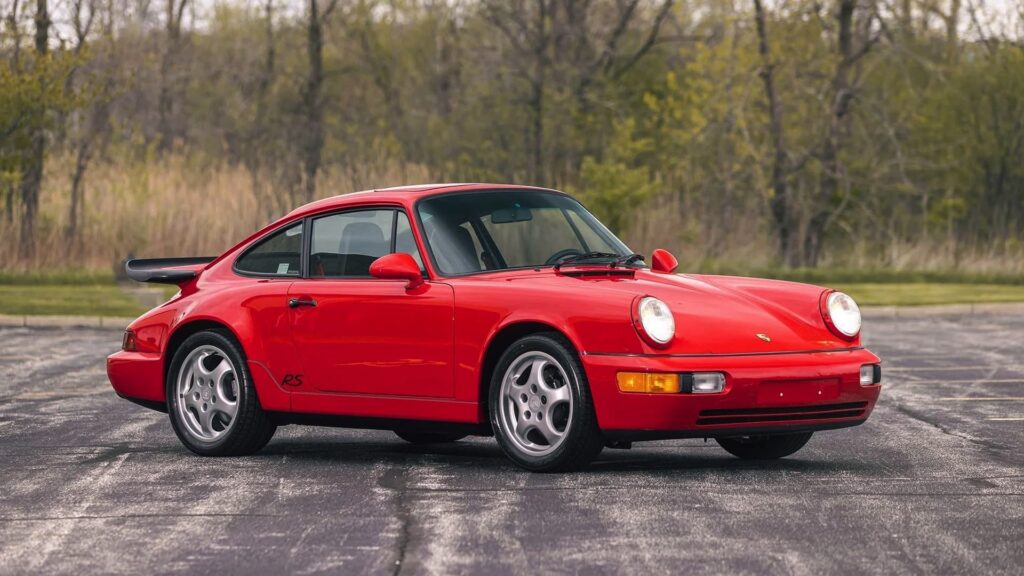 Inspired by the Carrera RS, although not quite as extreme in its weight savings, the 1993 Porsche 911 RS America was created specifically for the US market to fill a gap left by the unavailability of other RennSport models. It excluded luxury options to save weight and reduce its cost such as rear seats and door pockets, along with a great deal of sound deadening material saved about 77 lbs overall.
It rode on 17-inch "Cup" wheels and featured a fixed rear wing that combined with the other performance-focused features to deliver the sort of car that was fit for track days. This particular example was optioned with an electric sunroof, limited slip differential, and cassette radio when purchased by its first owner who kept the car for more than 30 years. It's accompanied by its original set of manuals, keys, window sticker, and bill of sale as well as other original equipment such as the tool kit, air pump, spare tire, and jack. It's covered just 7,290 miles since new and is estimated at $260,000 – $300,000.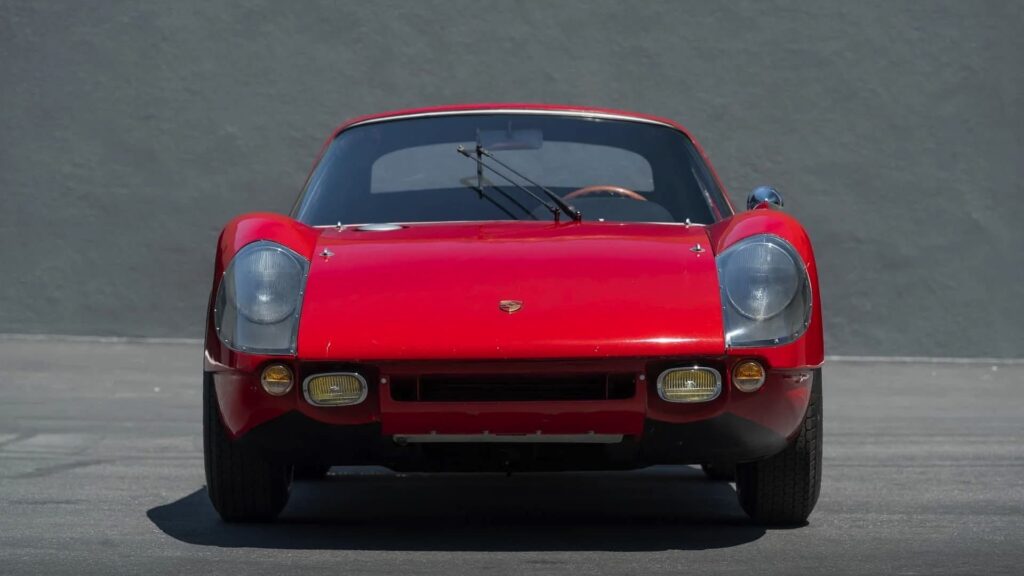 One of only 107 examples of the last road/race car produced by Porsche, this is a documented matching-numbers example and is equipped with the Sebring-spec exhaust system. Its rarity and age mean it's eligible to participate in most any of the Porsche 75th Anniversary events and many others in the coming years.
Originally delivered to an Italian racer it competed in several events in its first years of life. By 1968 it had changed hands a few times and landed in the collection of Lesslie "Les" Gunnarson who owned the car for more than 50 years. The car has been extremely well-maintained. It's seen a fair amount of time competing in hill climbs and other classic motorsport events as it should. This rare and very clean example of the Porsche 904 Carrera GTS is estimated to be worth $2,400,000 – $2,800,000.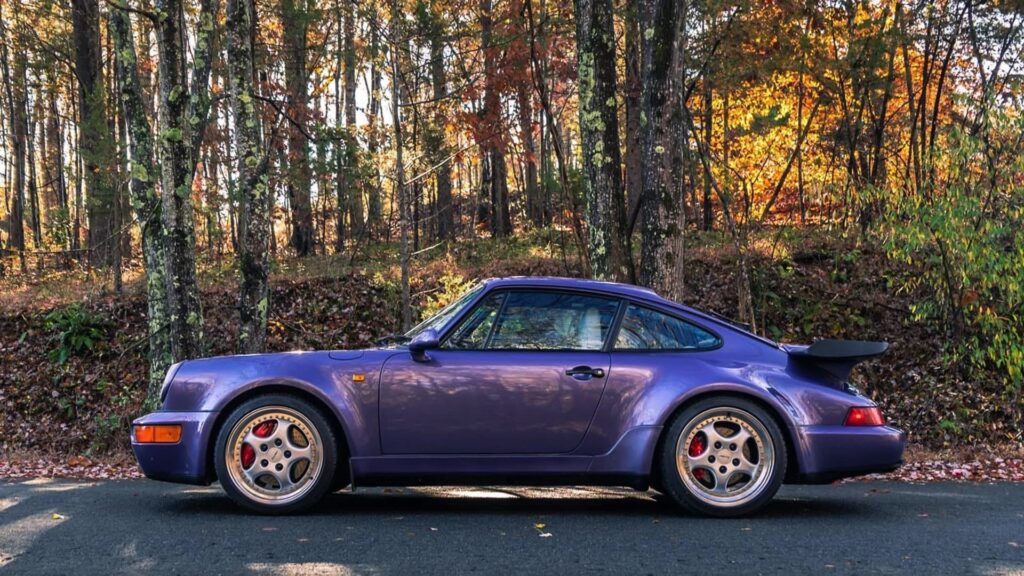 Built for the end of the 964 model, the 1993 Porsche 911 Turbo 3.6 was intended to be a strong sendoff for the last rear-wheel drive 911 Turbo with the impending introduction of a four-wheel drive model. The engine was bumped from 3.3 to 3.6L and produced 355 horsepower and 384 lb-ft of torque.
This example is an even rarer example of the 1993 Porsche 911 Turbo 3.6 as it was special ordered in non-standard colors and was delivered new to Japan. Finished in Metallic Paint to Sample Lavender-Blue that transitions from blue to a light purple depending on the angle of lighting, the interior is finished in Light Grey and Magenta that really sets it apart from other example of the '93 911 Turbo 3.6. It's estimated at $375,000 – $425,000.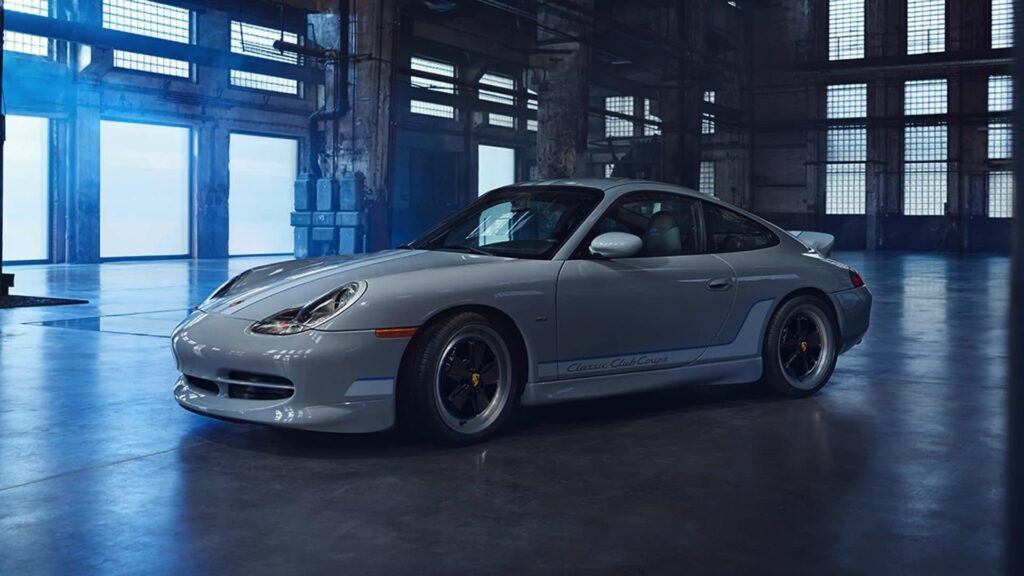 The 1999 Porsche 911 Classic Club Coupe "Sonderwunsch" Factory One-Off was born of a collaboration with the Porsche Club of America and is a truly one-of-one car. It started life as a 1999 Porsche 911 Carrera Coupe that was found in Virginia before it was shipped to Stuttgart where it was transformed into the 911 Classic Club Coupe.
As this is an extremely unique vehicle the closest number offered to an estimate is the MSRP of a fully optioned 2023 Porsche 911 Sport Classic which is $292,865. It would come as no surprise to see this sell for a price in excess of the Sport Classic.
An extremely rare car, this 1971 Porsche 914/6 "M471" is one of only 23 that were equipped with the M471 "Competition Option Group" package from the factory. It's a documented matching-numbers example and has been restored to its delivery colors of Gemini Blue with a black leatherette 'kunstleder' interior that was only offered for one year.
This car includes a factory tool set, passenger footrest, and spare keys. It was part of the PCNA Heritage Gallery during the 2019 "Golden Anniversary" celebrating 50 years of the 914. This extremely rare and well-documented example of the ultimate 914/6 is estimated at $525,000 – $600,000.