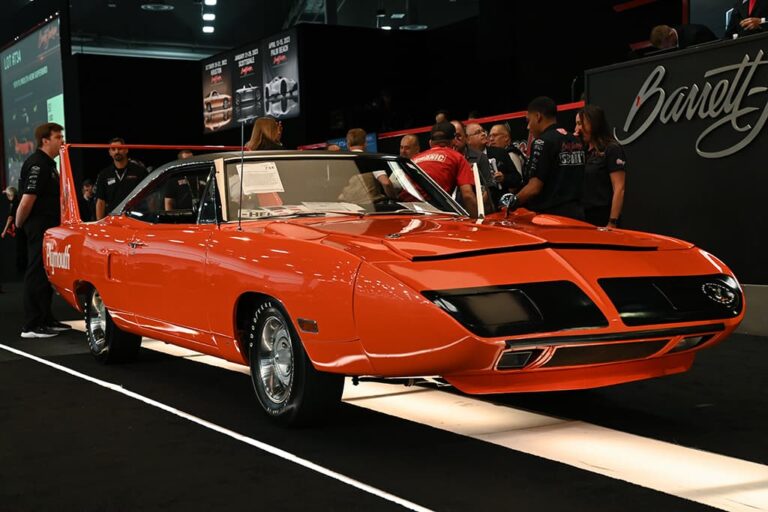 This 1970 Plymouth Hemi Superbird sold for $1,650,000 at Barrett-Jackson's Las Vegas Auction. Equipped with its original 426 HEMI V8, this Superbird presented in high impact EV2 Tor Red paint and has all the options one might want – power steering, power brakes – with front discs – and the max cooling option.
One of 135 built and part of the 1970 NASCAR wing car homologation program, it reminds us of the days when stock car racing was done with, you know, cars that were stock and could be purchased from a dealership. Try picturing a modern car from NASCAR being driven off a dealership lot!
The Superbird was one of the two Chrysler "winged warriors" built to compete in NASCAR at the end of the muscle car aerodynamic time frame. Interestingly, although the Superbird and the Dodge Charger Daytona do look alike in many ways, they actually feature very little in the way of shared specialized parts.
Superbird Homologation Requirements
In order to homologate the Superbird for 1970 Plymouth was required to build one example for each dealership. It's estimated that 1,935 Superbirds were built to accommodate that homologation requirement.
While the street version of the Superbird was offered with different engine options, the ones that hit the race tracks were powered by the 426 ci Hemi V8 that was tested by Car & Driver on the quarter mile with a 0-60 time of 4.8 seconds and 13.5 second run at 105 mph. Since there wasn't a followup to the Superbird, it was one of the first muscle cars to really start gaining momentum as a collectible.
This particular sale is remarkable not only in that it reached Million Dollar Car status, but for how much more it cost compared to its median value, which was only $345,500. Obviously with only 135 examples of the Hemi-powered Superbird ever in existence it's not exactly a common sighting at collector car auctions and with the added pressure of a televised auction, plus just being in Las Vegas, this car was extremely well-sold at $1,650,000. Now we just wonder when we'll see another pop up at auction – likely sooner than later.