Corvettes at Carlisle is Back!
There are two words that fit together like chocolate and peanut butter: Corvettes and Carlisle. That's right, Corvettes at Carlisle is back in a big way, nearing record-setting attendance as of Friday.
The annual Corvettes at Carlisle event took place last year, but there was some contention regarding the number of attendees permitted – but in the end, the event went as well as one could expect, all things considered.
Lance Miller, Co-Owner of Carlisle Events, spoke with us about coming back with a bang this year. Regarding 2020 he said, "Last year we were cut in half, literally." And that's for all the understandable reasons, but it bodes well for this year.
"We're seeing a lot of pent-up demand," said Miller. "Right now, I'm looking at thousands of cars and everyone is smiling and having a great time."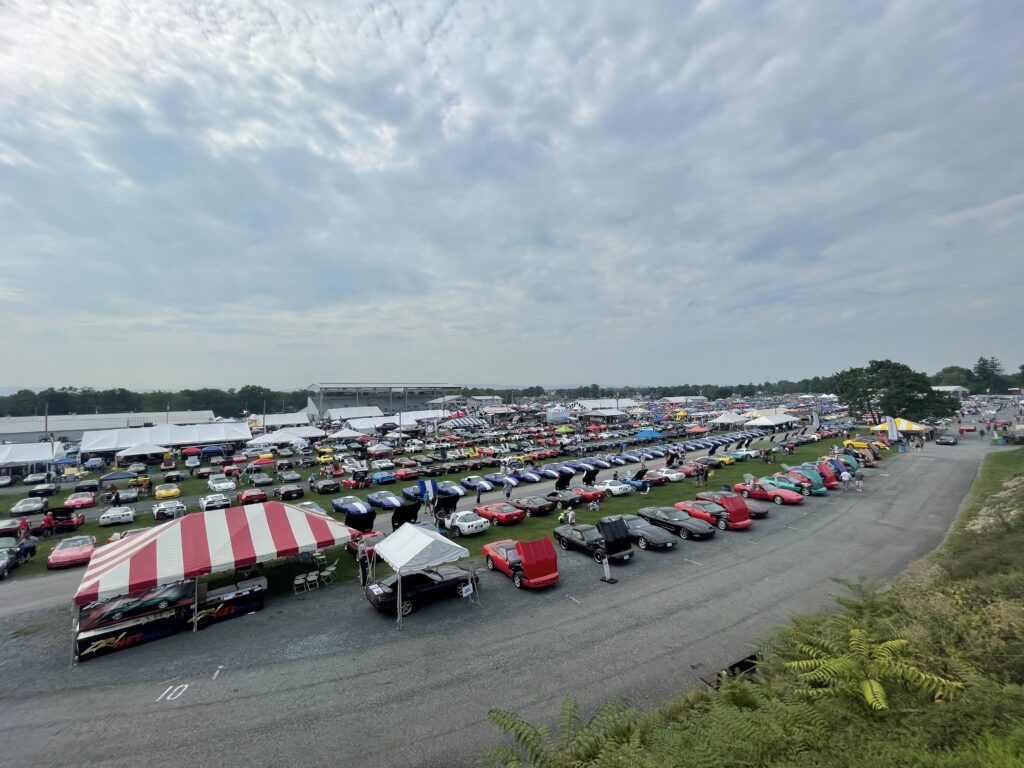 Under normal circumstances this would be a normal year for Carlisle, if one can even describe the magic of this event as "normal." Two years ago, due to the launch of the new Corvette, Carlisle Events saw the largest number of attendees at any instance of their Corvette show. But this year is on the verge of breaking those records set due to the release of the C8 Corvette Stingray.

This year is somewhat of a surprise to Mr. Miller and everyone else at Carlisle Events. Attendance generally peaks with the release of a new generation of 'Vette, according to Lance Miller, "Whenever a new Corvette comes out everyone wants to see it." And there's no better place to see a new Corvette than the one hundred acre fairgrounds.

That isn't lost on Miller, but he added, "I'm very optimistic, I really think we're going to do it," referring to the astronomical number of Corvettes and Corvette-enthusiasts on the perfectly-situated fairgrounds. "We're on track to actually beat that weekend, so I'm really excited about that."

And who wouldn't be excited to be in Carlisle if you're even the slightest bit interested in the performance and lore of the Corvette? There is a Cunningham C8 on display, next to the very car that made the Cunningham and Corvette names forever bonded.

There's so much more to take in at this show – massive numbers of Corvettes in the Car Corral, if you happen to be in the market for your first taste of the legendary American sports car. Of course, if you're more of a DIY-enthusiast, you have to check out the vendors. Miller joked, "You can probably build your own car," with all the parts you can find at the event. Or just buy the whole car – you won't be alone in picking one up according to Miller, "I was just talking with someone who told me sold five Corvettes yesterday!"
But be sure to check out the rest of the fairgrounds – Carlisle Events maintains one of the cleanest facilities we've ever had the privilege to utilize. "We take pride in it, we do," said Miller. "I don't like going to a place with disgusting bathrooms. I don't want our visitors to have to do that either," he explained.

It's more than just clean bathrooms. Carlisle is one of the best maintained facilities you'll ever visit, with staff cleaning all day and ensuring that you won't come across trash discarded by thoughtless people. We really mean it when we say that this is a great event, not just because we love Corvettes, but because it's a fantastic place to get to see all those Corvettes.

So much so that the population of Carlisle skyrockets during the show. Based on estimated attendance figures, Carlisle jumps to the 4th most populous city in Pennsylvania when one of their big events is running.

But what if you really, really want a new C8 Corvette? But not just the Stingray, you need the 60th Anniversary Cunningham C8? Only 60 of them will be built, but you have a chance to get your hands on #33 of these 600 HP dreams by buying tickets to the Chip Miller Amyloidosis Foundation raffle, with the drawing taking place on October 1. If you don't already have money down on one of these, this is probably your best – and possibly only – opportunity to get one now, so it's probably worth it to buy some tickets and know that you'll be supporting a good cause while you drive around in your new Corvette, the envy of everyone else on the road.