65 Years of Laguna Seca History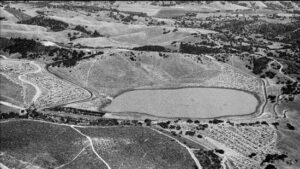 Celebrating its 65th racing season this year, WeatherTech Raceway Laguna Seca looks back at the stories and people that made it the legend it is today. The story of Laguna Seca begins after the 1956 Pebble Beach Road Races and the tragic death of Ernie McAfee during a crash that year. It was decided that the existing Pebble Beach course was "not enough track" for the increasingly powerful cars that showed up each year, which lead to the formation of the Sports Car Racing Association of the Monterey Peninsula.
The Pebble Beach races had become a significant event, as well as a financial boost to the Monterey area and no one wanted to let it end so a lease was signed between the Monterey Chamber of Commerce and the US Army to build a track on Fort Ord Property. The lease was signed on August 7, 1957 and the original nine-turn track was created in just 60 days – in time for its first race on November 9, 1957.
Designed by Wallace Holm, an architect from Salinas, the track was constructed for $125,000. Holm, who was the site development chair, drew a rough diagram of the track layout in the dirt, proceeded to stake the course and let the bulldozers loose.
No history of Laguna Seca would be complete with the story of the Corkscrew – one of motorsports' most famous corners. The legend is that the construction foreman drove up the hill and told a bulldozer driver that he was going to lunch. The operator of the bulldozer asked the foreman what the next step in the construction was, to which the foreman told him to just get down the hill "any way you can." We can thank that bulldozer operator for the hard-left, hard-right layout that is so well-known throughout the world of motorsports.
The inaugural race in 1957 saw 35,000 spectators and 100 entrants. The race brought well-known competitors to the track including Carroll Shelby, Jack McAfee, and Richie Ginter. But it was the relatively unknown Pete Lovely and his "plain old Ferrari Testa Rosa" who found himself running second, trying to catch Johnny Von Neumann and his new Ferrari TRC, equipped with a more powerful engine than Lovely's car. On the last lap Lovely made his move at Turn 9 and took the first ever checkered flag at Laguna Seca.
1959 saw Ed Leslie, a Korean War veteran and pilot for the Army Air Corps, get into the racing game. Behind the wheel of his Austin Healey 100, riding on double-spoked wheels, he found himself leading the pack at Laguna Seca when he went into Turn 4 flat out and one of his wheels buckled under the stress, sending him off the end of the road. Fortunately he was able to escape the incident unhurt, but it was that moment that gave birth to the name "Leslie's Leap" for Turn 4.