2022 Porsche Restoration Challenge
Porsche is hosting a nationwide Restoration Challenge for the second year in a row, offering a chance for dealerships to restore one of its fabled cars back to its original glory. Dealers will get a car that is "due for some expert technical attention," and oversee the entire restoration process at the hands of Porsche-trained technicians. More than 60 dealerships are expected to participate this year, a 50% bump from the 2021 competition.
Eligible models include the 914, 356, five generations of the 911, the 944 and 928, plus some newer examples including the first-generation Boxster. The Restoration Challenge will run through July with all entries being judged at one of three events. Each event will select a finalist to represent that portion of the country – East, South-Central, and West – and those finalists will move on to the finale which will see the overall winner announced in September.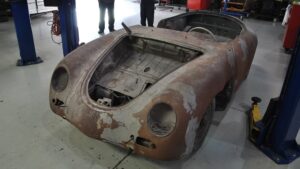 Keeping with the running theme of documentation being king, a panel of experts from Porsche Cars North America will judge the entries not only on their mechanical and cosmetic restorations, but also "Marketing and Documentation," such as the Classic Technical Certificate that includes original production information.
"The mission of Porsche Classic and our dealer partners is to go above and beyond every day to keep vintage cars on the road and driving just as well as the moment they left the factory," said Jonathan Sieber, Manager Porsche Classic with Porsche Cars North America. "With the Restoration Challenge, dealers and service teams are able to showcase their skills and capabilities while revitalizing these dream machines. Our inaugural competition in 2021 produced some truly stunning examples of classic Porsche sports cars, and we expect even more from our participants this year."
Porsche will judge entries on authenticity, craftsmanship, documentation, and "most importantly, a smooth-running engine," in deciding which dealership will win the 2022 Porsche Classic Restoration Challenge.