Mecum Kissimmee 2023 Top 10 Shelbys
It's no surprise that an auction such as Mecum's sale in Kissimmee would be full of the hottest collector cars on the market. Some makes and models have had their moment in the spotlight, but it seems that bidders can't get enough from Carroll Shelby. Whether an example of the iconic Cobra or one of the variations he created from the Ford Mustang, Shelbys got lots of attention in Kissimmee. Below are the top ten most expensive Shelbys sold by Mecum in Kissimmee this year.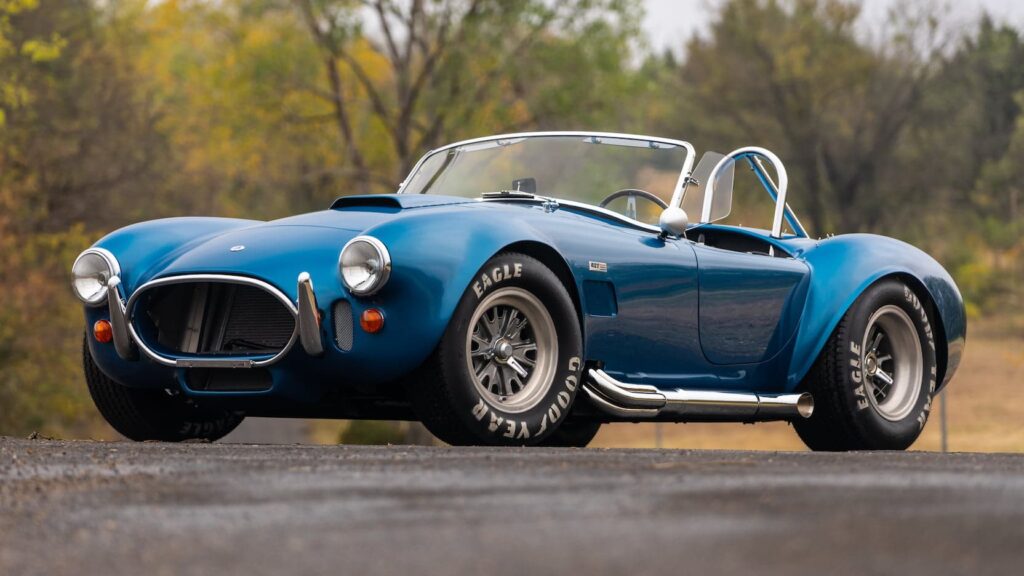 This 1966 Shelby 427 Cobra had an auction estimate of $1,500,000 – $1,700,000 and it fell just short that. This car was not an S/C specification car when it was born – rather it was converted to an S/C appearance with a hood scoop, roll bar, and S/C lips on its rear fender flares in 1971. A decade later it was converted to a Competition-spec car by Geoff Howard at Accurate Restorations. More recently it underwent a thorough cosmetic and mechanical restoration in 2022, photos of which were included with the car. It may have fallen short of Mecum's estimate, but it seems like a reasonably strong price for a 427 Cobra that's been modified so much since new.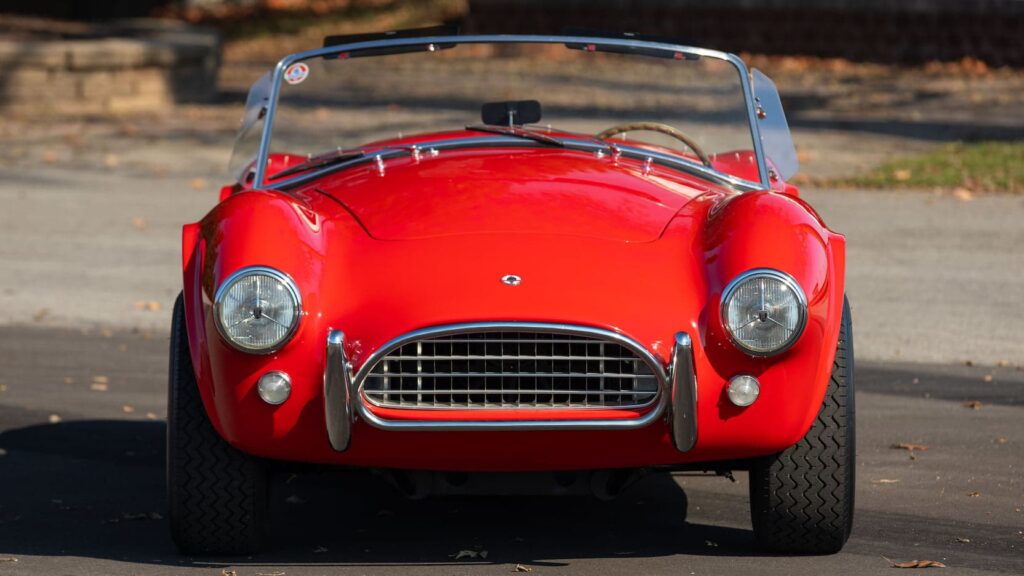 This car, CSX2516, was part of the Rick Grant III Estate Collection and fell a bit short of Mecum's estimate of $1,000,000 – $1,250,000. Past ownership of the car can be tracked back to the early 1970s until Virgil Nelson, an enthusiast from Iowa, purchased the car in 1975 and kept it for 31 years. It changed hands twice in 2006, eventually landing in Rick Grant III's collection. During his ownership the car was restored and finished with the red paint and black interior that it presents in today, although it was originally finished in a Vineyard Green exterior paint. Overall it was a somewhat subdued result for a solid 289 Cobra, but certainly nothing to be ashamed of.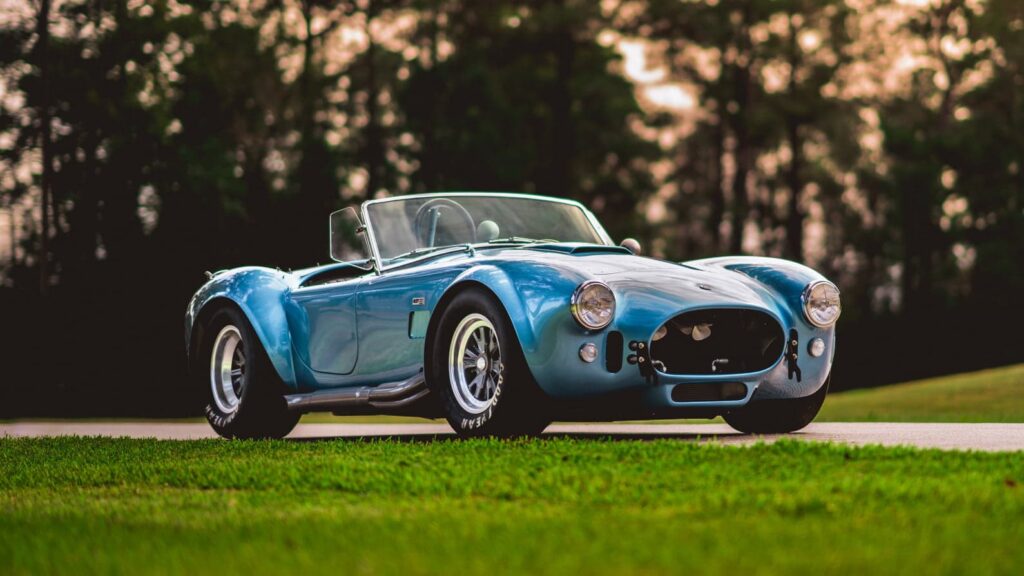 This car was… problematic. It was originally ordered as a racing specification example and eventually built into a 427 Cobra Roadster, but then it was crashed. Unfortunately that crash lead to the car being cut in half before it was acquired by Mike McClusky towards the end of the 1970s. It changed hands a few more times in the 1980s before landing in the collection of Ted Thomas who rebuilt the chassis and then sent it to Cobra Restorers in Kennesaw, GA. It made its next major public appearance at the 1993 SAAC 20 with the words, "last comp chassis" written on its nose. The consignor acquired the car in 2014, at which point it was finished in Viking Blue paint with a black interior. The car was documented through interviews with prior owners and restoration specialists. It was never going to pull the kind of money a clean, non-crashed example would so the seller should be happy with the price. That's really all the money in the world for CSX3063.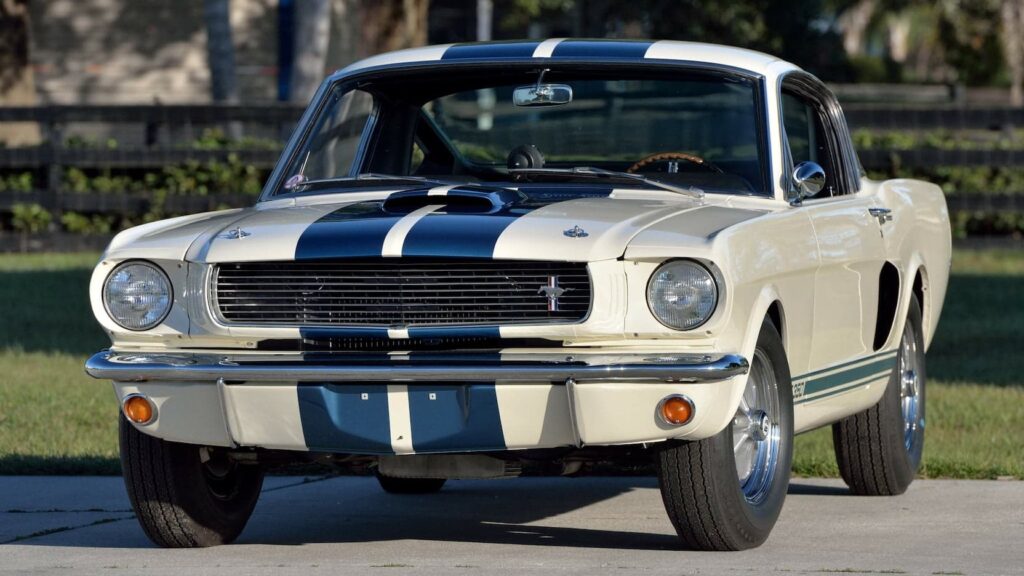 This 1966 Shelby GT350 is one of the carryover cars that were left over at the end of the '65 model year, which may make it more desirable to some collectors. It's equipped with its matching numbers engine, which is paired with a T10 four-speed manual transmission. Finished in classic Wimbledon White with Guardsman Blue stripes and the usual black interior, it is a radio delete example. $418,000 is a fairly strong price for a 1966 Shelby GT350 so we can't help but call this one well-sold.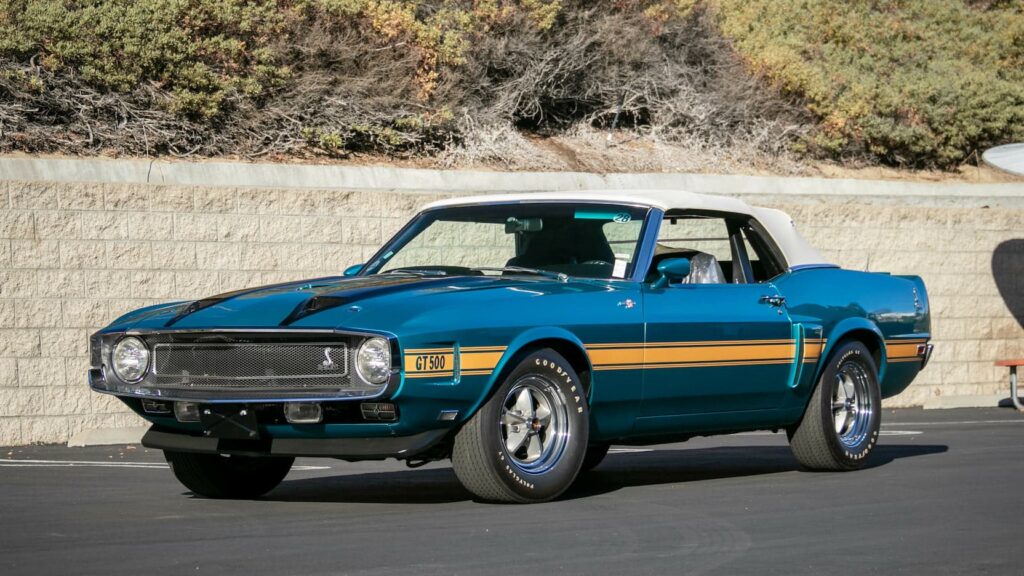 This 1970 Shelby GT500 Convertible benefits from an exhaustive restoration and still sports its matching numbers 428 Cobra Jet V8 engine, paired with a four-speed manual transmission. Finished in a refreshing Gulfstream Aqua with gold stripes and a white convertible top, it's nice to see a car so well restored that's not finished in red or yellow. It included the original Shelby invoice as well as a Deluxe Marti Report and sold for significantly more than Mecum's estimate of $200,000 – $250,000. This was clearly well-sold.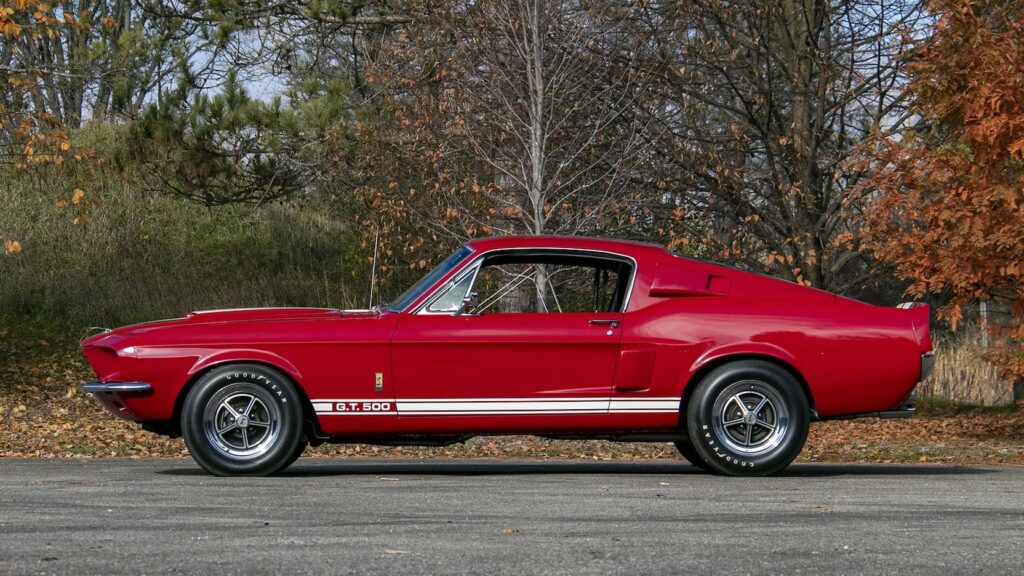 This 1967 Shelby GT500 Fastback far exceeded the pre-auction estimate of $175,000 – $200,000 and the matching numbers Police Interceptor V8 engine certainly helped drive the bidding that high. This was the first year of the GT500 and it makes sense that collectors who favor that model over the earlier GT350 would start looking for the best examples from that model year, so in hindsight the price isn't out of line. It's equipped with power steering and power brakes that include front discs. There's no way to call this anything other than well-sold!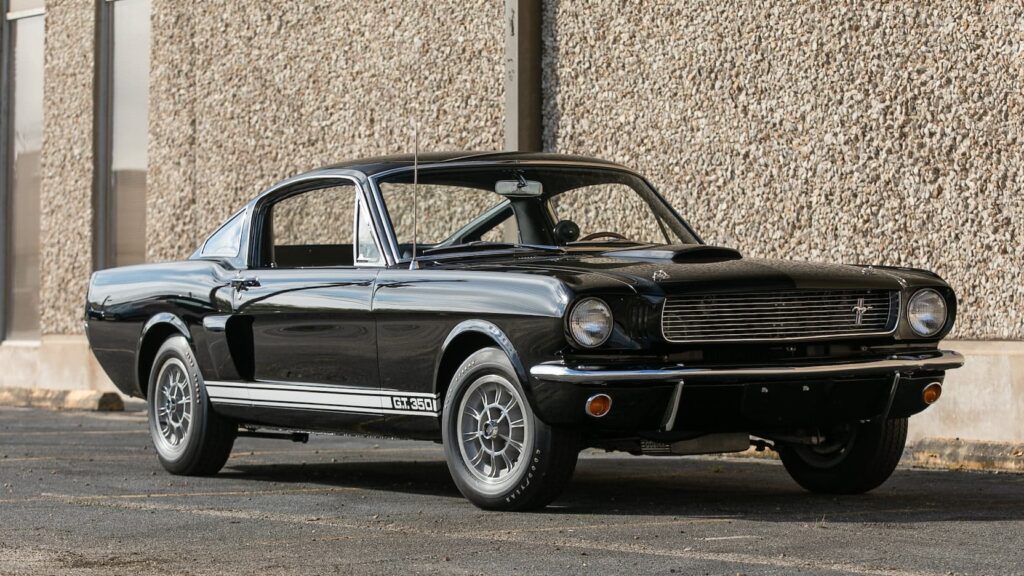 This car, 6S1249, came from the Gary Thomas Collection, where it had resided since 2011. The rare black paint and stripe delete exterior goes a long way in explaining the extra interest that lead to this selling at the very top end of Mecum's estimate of $275,000 – $325,000. It's still equipped with its original 289 V8 and includes a solid amount of documentation, not to mention it's been verified by Shelby-historian Howard Pardee. It was an unrestored car with only 62,300 miles since new when acquired by Gary Thomas, who then ordered a full restoration, following which it has only completed test miles. It's a tough call, but we're going to say this was well-sold.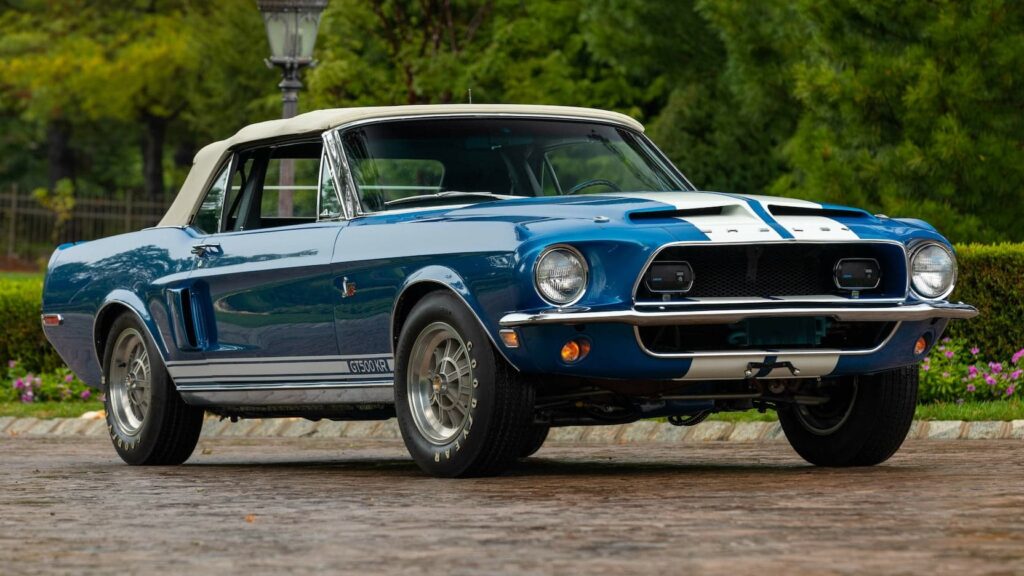 This Acapulco Blue 1968 Shelby GT500KR Convertible features power brakes and power steering and included a Marti Report and a copy of its build sheet. It's one of only 57 GT500KR convertibles produced that year with a four-speed manual transmission and air conditioning. It still retains its matching numbers 428 V8. The KR was built to be the ultimate Shelby touring car and it delivered on that promise with all the power and comfort one could desire. This example was restored by Michael's Auto Body of Winter Haven, FL and was quite well-sold.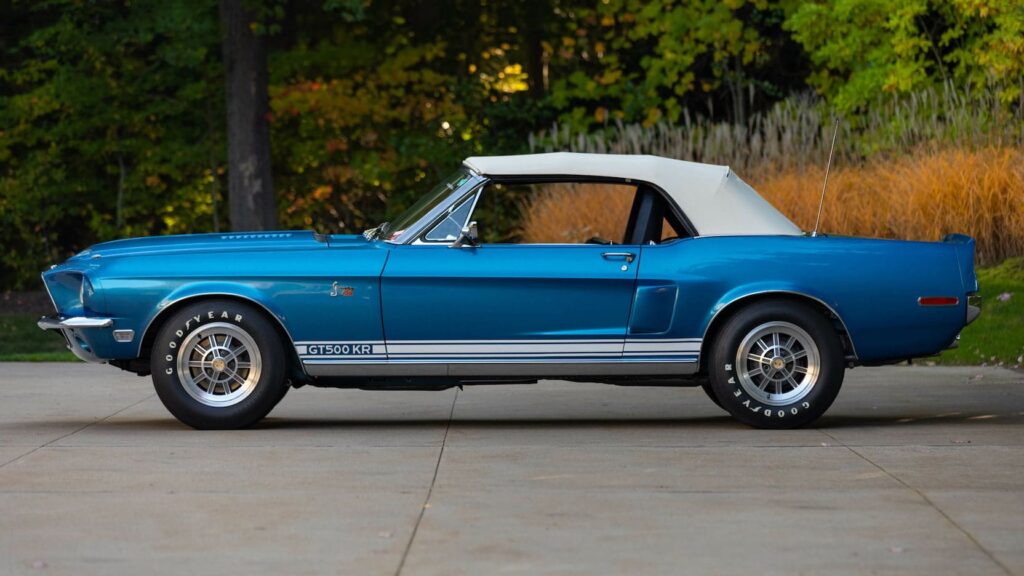 This is a somewhat earlier example of the 1968 Shelby GT500KR than the last one, but it's also finished in Acapulco Blue with a black interior. This was the first time the car was offered for public sale and was owned by noted collector Wayne Curry for many years. It underwent a comprehensive restoration, following which it has only covered 5 miles. It's equipped with matching numbers engine and transmission, as well as the 3.50 Traction-Lok differential. Its top has only been lowered once, solely for the purpose of correctly fitting it during the restoration – that's how clean this car is. If it also featured factory air conditioning it might have brought more on the block, but as is it was still a strong sale, albeit less than Mecum's estimate of $295,000 – $315,000.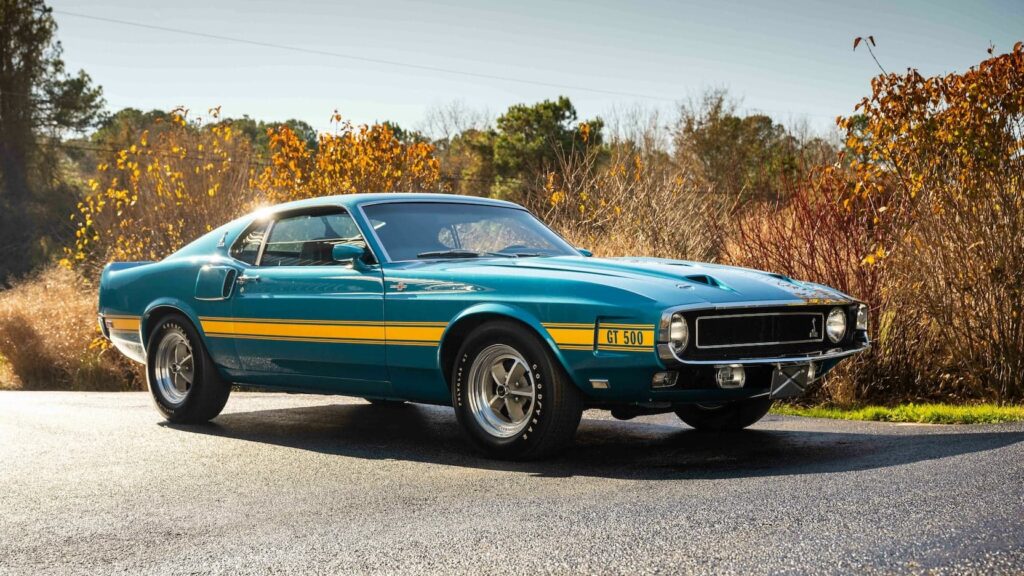 This 1969 Shelby GT500 Fastback features its original R-code 428 Cobra Jet engine with factory Ram Air and is finished in the factory-correct Gulfstream Aqua paint with Gold stripes, making it one of only 43 GT500s to be finished in that particular blue. It includes power disc brakes and power steering, along with its original AM radio. A big selling point would be the factory air conditioning that must have been part of the reason it sold for so much more than Mecum's estimate of $150,000 – $175,000. There's no way to call this anything other than well-sold!