Acura unveiled the prototype of the new Integra in Los Angeles and it definitely impressed. Introduced by Jon Ikeda, Vice President and Acura Brand Officer who wasted no time in showing off the new car in its NSX-inspired yellow paint.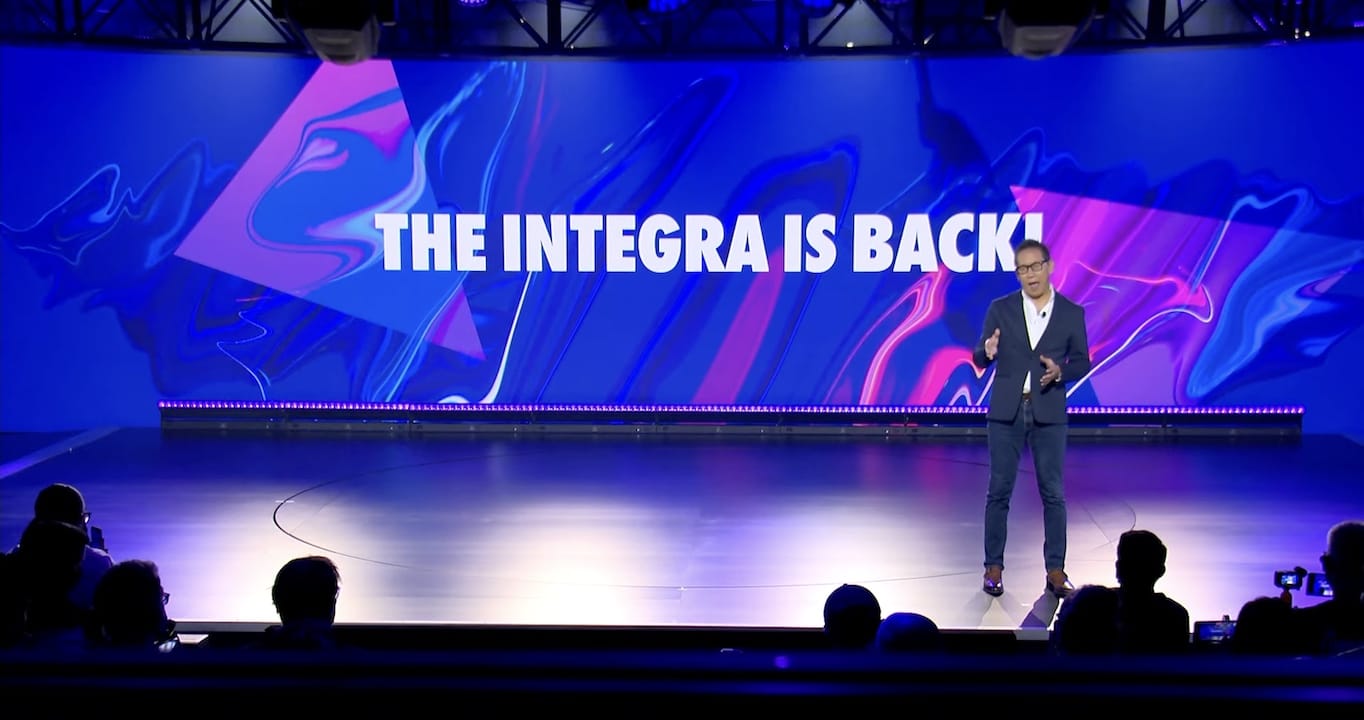 Jon Ikeda announcing the new Integra Prototype
This will be first Integra to be equipped with a factory turbocharger which will help the 1.5 L engine provide the power expected of a new Integra. The prototype features design cues taken directly from previous generations of the Integra, including the model name being embossed in both the front and rear fascias of the car.
Although the prototype that was revealed is a five-door model, not the three-door hatchback many wanted, there's still plenty of other throwbacks to past generations. The front and rear headlights are clearly inspired by previous Integras and they fit well with the sleek-looking curved roof of the car.
A six-speed manual transmission will be available when the new Integra goes on sale. It is expected at dealerships next year and will have a starting price around $30,000.
Previous Integra Generations
Acura, along with the first generation Integra launched in 1986. It was offered in three-door and five-door variations. The first generation Integra was refreshed for 1988, the same year the Integra won its second consecutive IMSA championship.
The second generation Integra debuted in 1990 as a three-door hatchback and a four-door sedan. Acura continued their winning ways in IMSA with their third Drivers' Championship that same year. 1992 saw the introduction of the GS-R spec which featured a new four-cylinder engine with VTEC, making the Integra the first model following the NSX to feature VTEC.
The 1994 model year saw the introduction of the third generation and the first time the GS-R spec Integra was offered as a sedan. Three years later we witnessed the debut of the Integra Type R for the U.S. market, featuring a more powerful engine, upgraded suspension, helical limited-slip differential, and a 93-lbs weight reduction. That year also saw the first of six consecutive championships in the SCCA World Challenge.
Acura introduced the RSX as a new nameplate for the Integra in 2002 featuring the Type S trim level. The RSX Type S offered 200 horsepower and a six-speed manual transmission. In 2005 the Type S was upgraded to 210 horsepower as well as an upgraded suspension. Acura won the 2006 Manufacturers' Championship in the SCCA World Challenge, the last year of the RSX's production.
If the past is any indication the new Integra should prove to be an impressive model, albeit a bit more grown up than its earlier generations.