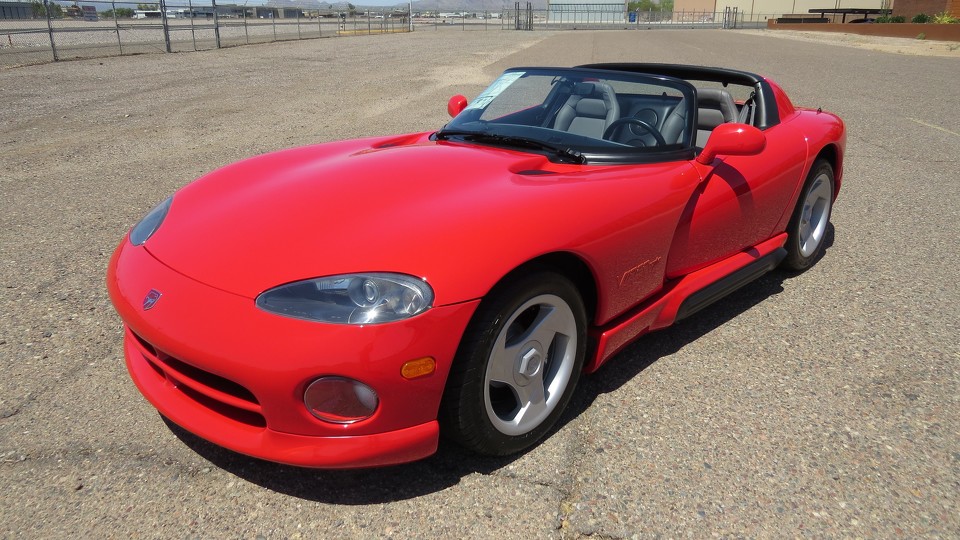 Russo & Steele sold a 1992 Dodge Viper RT/10 with only 36 miles on the odometer for a hammer price of $120,000. When including the buyer's premium, someone paid $132,000 to own an essentially new 1992 model year car. When thinking about it like that, it sounds a little excessive – but let's remember that 1992 was the first year of the Dodge Viper and there may well never be another opportunity to buy one with only 36 miles on the clock.
When Dodge introduced the Viper they only built 285 examples for the 1992 model year, so in addition to the low mileage this is a pretty rare car in the first place. Throw in all the manuals, soft top, side curtains, and climate controlled storage since new and a case can certainly be made for spending $132,000 to own this car.
But what else could an enthusiast get for that same price? It's not a short list so let's just pick a couple.
Since the Viper was so unique in its day, consider that at the same Russo & Steele auction a 2008 Tesla Roadster sold at a hammer price of only $45,000. While the Tesla Roadster isn't exactly a collectible now, a day may come when it will be and getting in on it before the market really takes an interest could prove to be a good long-term strategy.
Another option that's close enough in value to the Viper would be the 1977 Ferrari 308 GTB sold by RM Sotheby's on August 13. The 308 GTB hammered at $130,000 and that extra $10,000 can be more than made up for by the careful maintenance performed on the Ferrari, complete with documentation and invoices. That's one thing you wouldn't need to worry about with the 308 GTB – it's been driven and maintained.
The Viper, on the other hand, clearly hasn't been driven – remember, only 36 miles since new – and when a car sits that long, even in a climate-controlled setting, it won't be a case of just turning the ignition and driving off. There will be some deterioration just from lack of use.
And therein lies the rub – every single mile added to that Viper's odometer will detract from its value. Whoever the new owner is must realize that and must have purchased it purely as an investment, but as far as we're concerned there's only so much joy you can get from a car without hopping behind the wheel and burning some rubber.