Jim Taylor Offering Delivers Strong Results
We attended the Broad Arrow Auctions sale last weekend in Gloversville, NY where they sold a private collection – Passion for the Drive: The Cars of Jim Taylor. Jim Taylor is well known in the collector car world having shown many of his cars at numerous concours including Pebble Beach, The Quail and Amelia Island. In addition, he has participated in many rallies such as the Mille Miglia, the Colorado Grand and the Peking to Paris event. All in, Broad Arrow offered 131 cars and over 500 lots of automobilia from the Taylor collection.
The auction was well attended (at times it was difficult to find a seat) and the phone and internet bidding desks were busy throughout the weekend. When the final hammer was dropped, the sale rate was over 99% for cars and all 500 lots of automobilia were sold for a total of $21,258,415. The only no sale of the day was the 1955 Jaguar D-Type that reached a high bid of $7,250,000. One of the most impressive sales was for the 1961 Mercedes Benz 300SL Roadster. The hammer dropped on that impressive car at $1,650,000 against an auction estimate of $1.2 to $1.4 million. Well sold as we say! A pair of 1965 Shelby GT350's caught our attention. One was preserved and one fully restored. The question is most people's minds was which car would bring more money. Interestingly, they both sold for $375,000. Not quite as strong as some GT350 sales in 2021 but still very good numbers. A 1966 GT350H four-speed surprised some in the room at a very strong $280,000 showing that Hertz Shelby's continue to climb in interest with collectors. One of the best "buys" at the sale was a 1950 Alloy Bodied Jaguar XK120 Roadster. One of only 242 produced. It hammered at $225,000. One of our favorites, a jewel-like Cunningham C-3 Coupe brought an impressive $855,000 on hammer.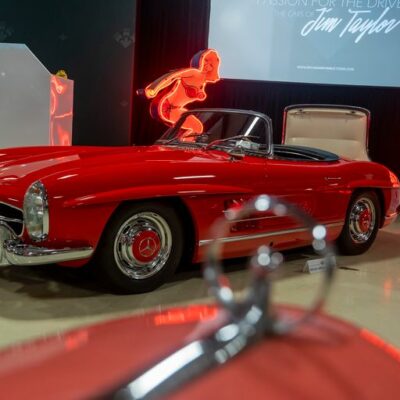 Thirteen cars/trucks were on display in the field surrounding Jim Taylor's garage. These vehicles were basically "yard art" or "project" vehicles. While we would not want to take on one of these "projects" they all looked nice as automotive sculpture. Prices ranged from $100 to $4,250 for various Dodge Power Wagons, various pick-ups and an Austin Healey 3000. The big Healey was well bought at $3,000 even if was only to be used as a parts source for restoring other 3000's. There were also some really fun lots, such as the 1929 Ford Model AA Popcorn Wagon which was providing fresh popcorn to the auction attendees throughout the weekend. It sold for $150,000 while the popcorn was popping!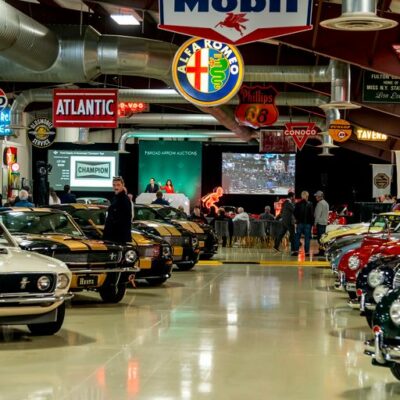 Automobilia sales were also strong with brisk bidding on many lots. For example an original framed poster from the 1959 24 Hours of Le Mans sold for $7,000! There were also many signs (some neon) that brought high bids.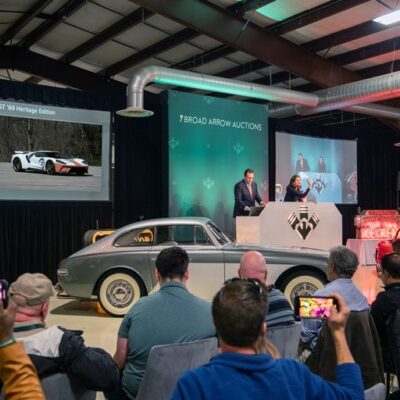 This sale also provided a look at how Broad Arrow Auctions works a sale. They did extensive marketing of this auction via mail, email, social media, videos on YouTube, Instagram and Facebook. And in addition to the standard printed catalogs, they also shipped some of the highlight cars from the sale to various events around the country. The D-Type and the Cunningham C-3 were on display in Monterey during the Car Week out there and other cars made there way to Detroit, New York City and other locations. If you are a collector car enthusiast, it was hard to miss the promotion. A record number of bidders and strong sales showed that we can expect to see more great auctions from Broad Arrow Group in the months and years ahead.