It's time for collector cars in Las Vegas! Barrett-Jackson's Las Vegas 2023 auction runs from June 22 – 24, 2023 and offers three days of cars, trucks, and more available to the interested bidder. A wide range of vehicles will be on offer including customized trucks and SUVs, classic muscle cars, modern exotics, and more. While each day has a great selection with something sure to appeal to everyone's tastes, the big day is Saturday June 24. Some of the most exciting cars hitting the auction block that day are below.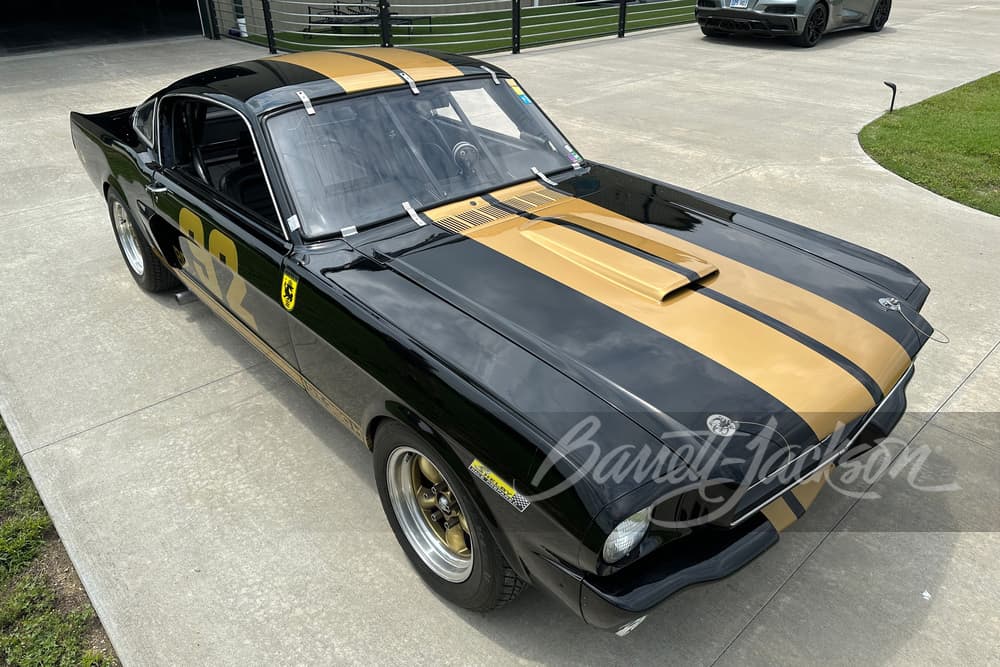 This is a little different than the usual GT350-H. While this started its life the same as its siblings, it was entered into various hill-climb and other races when it was new, after being sold to its first non-Hertz owner.
In that spirit the car was recently restored to Group B specs, making it eligible to compete in a variety of vintages races. It's made multiple appearances at the Rolex Monterey Motorsport Reunion and the Sonoma Festival of Speed.
Still powered by a 289 cubic inch V8, its engine has been modified to run on 110 octane race fuel and the car is equipped with a roll cage and fuel cell. It features period-correct racing Shelby gauges and still has functional turn signals and other exterior lights. Currently titled as a street-legal car, this GT350-H is accompanied by documentation of its restoration, photos before and after, and ownership history that goes all the way back to 1968.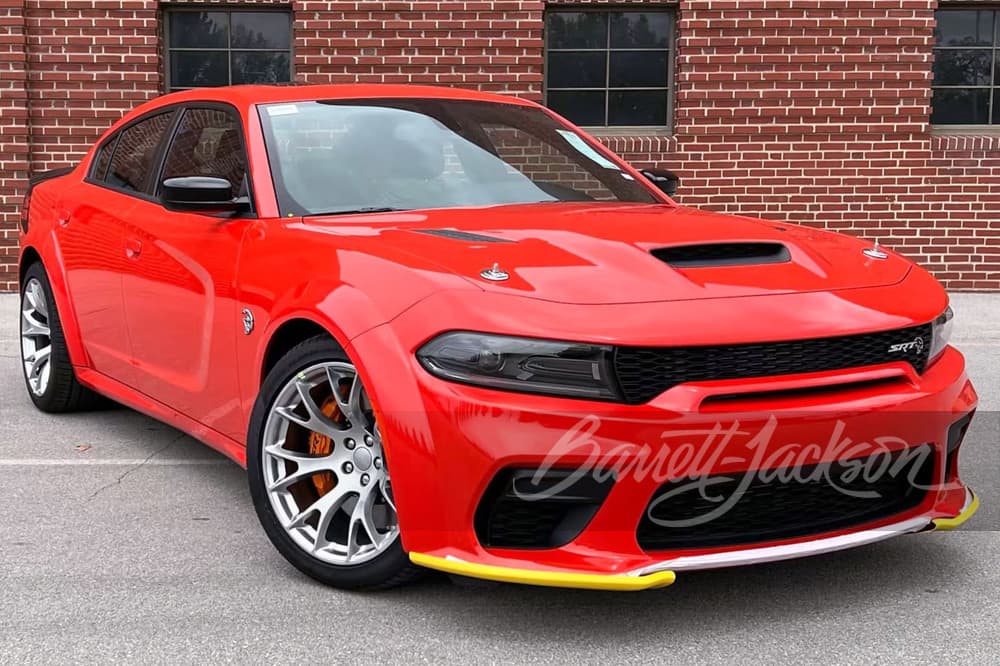 One of only 300 examples of the 2023 Charger King Daytona, the fifth of the "Last Call" models, this sports an extra 10 horsepower than the SRT Hellcat Redeye on which it's based. Its 6.2L V8 produces 807 horsepower and is paired with an eight-speed automatic transmission.
These were not available at just any old Dodge dealership – the 300 that were produced were allocated to specific dealers and we are unaware of any other one currently available with no more than delivery miles. This hasn't even been dealer prepped or driven on the street. This is a chance to own a car that will undoubtedly remain a notable chapter of muscle car history.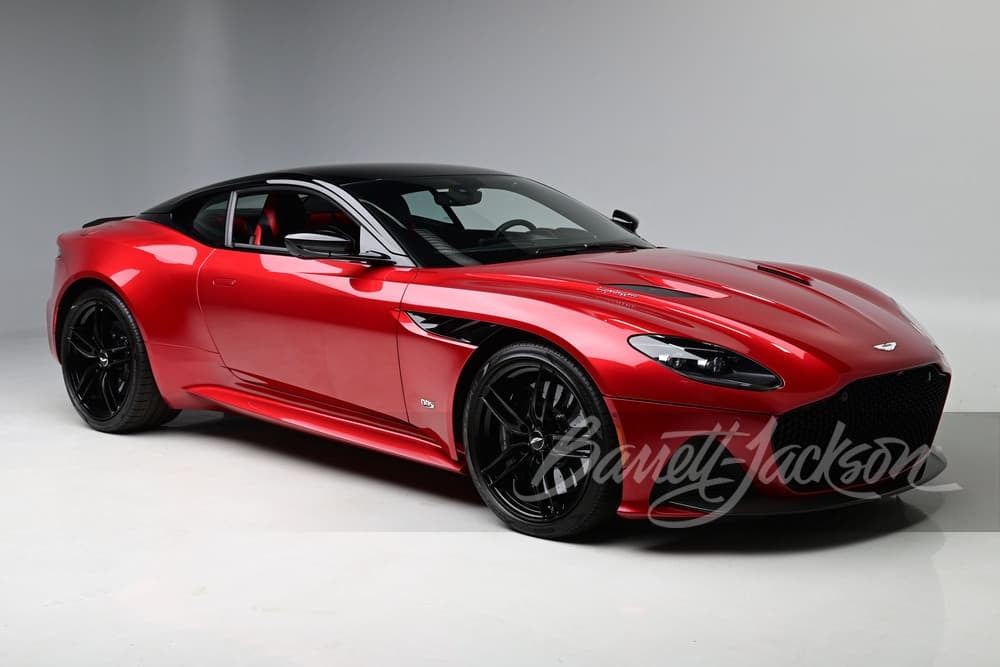 This single-owner 2020 Aston Martin DBS Superleggera spent its life in a climate controlled environment and has accumulated only 7,427 miles since new. It's powered by a twin-turbocharged 5.2L V12 that's paired with an eight-speed automatic transmission with steering wheel mounted sequential shifters.
Finished in Scorpus Red with an Obsidian Black interior, it features plenty of performance and comfort-oriented amenities. The 21-inch gloss black wheels reveal carbon-ceramic brakes with black calipers. The front seats are heated and ventilated, something a certain British spy would have enjoyed along with the 360-degree parking cameras.
Powered by a 351 cubic inch Cleveland V8, this 1972 De Tomaso Pantera was featured in the fifth "Fast and Furious" movie. It's especially noteworthy for the train theft scene with both Vin Diesel and Paul Walker.
The interior of this Pantera features a roll bar – both for safety and camera mounting. Unlike the DBS Superleggera, this car features no air conditioning and has had its spare tire, luggage rack, heater motor, and windshield wipers removed.
The seller acquired the car in 2013 and subsequently restored it to a drivable and collectible condition courtesy of some engine work, a complete repaint, new carpet, and reinstalling the exterior mirror. To confirm its authenticity, a Deluxe Marti report is included with the car.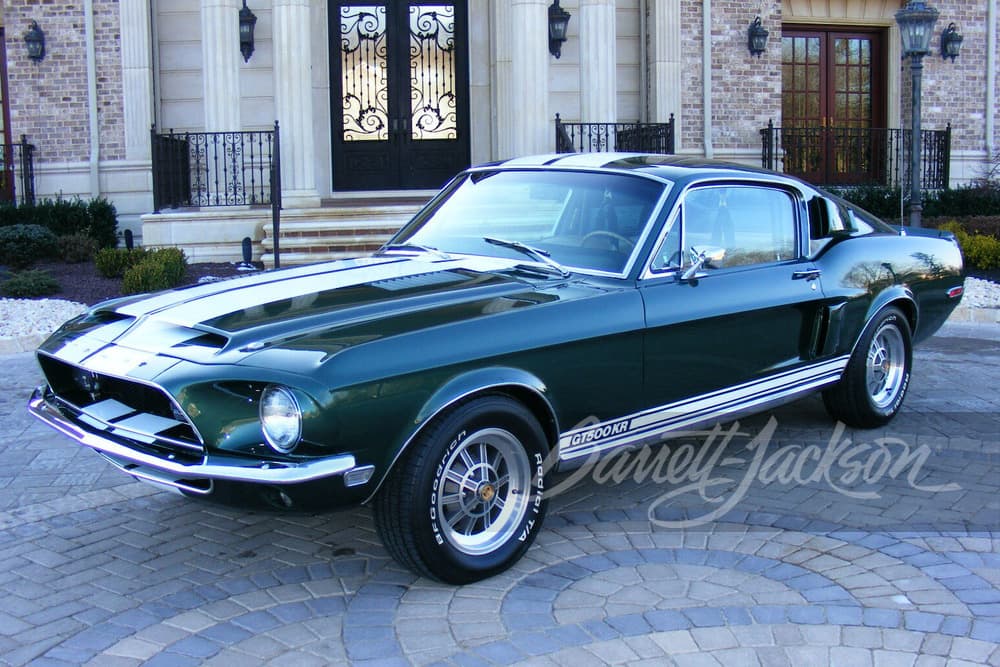 This King of the Road, a 1968 Shelby GT500KR benefits from a nut and bolt restoration. It's powered by a 428 cubic inch Cobra Jet V8 that's paired with an automatic transmission. It presents in the correct Highland Green – one of only 95 produced with that paint, and one of just 16 of those that left the factory with Saddle interior.
It still sports its original driving lights and decked out with options including the GT Visibility and Decor packages, original Shelby Stewart-Warner gauges, power steering, power front disc brakes, factory air condiontiong, a tilt steering wheel and more.
Sold new in Youngstown, OH, this GT500KR is listed in the official Shelby Registry. It includes plenty of documentation such as the factory invoice, order receipt, Marti Report, and window sticker.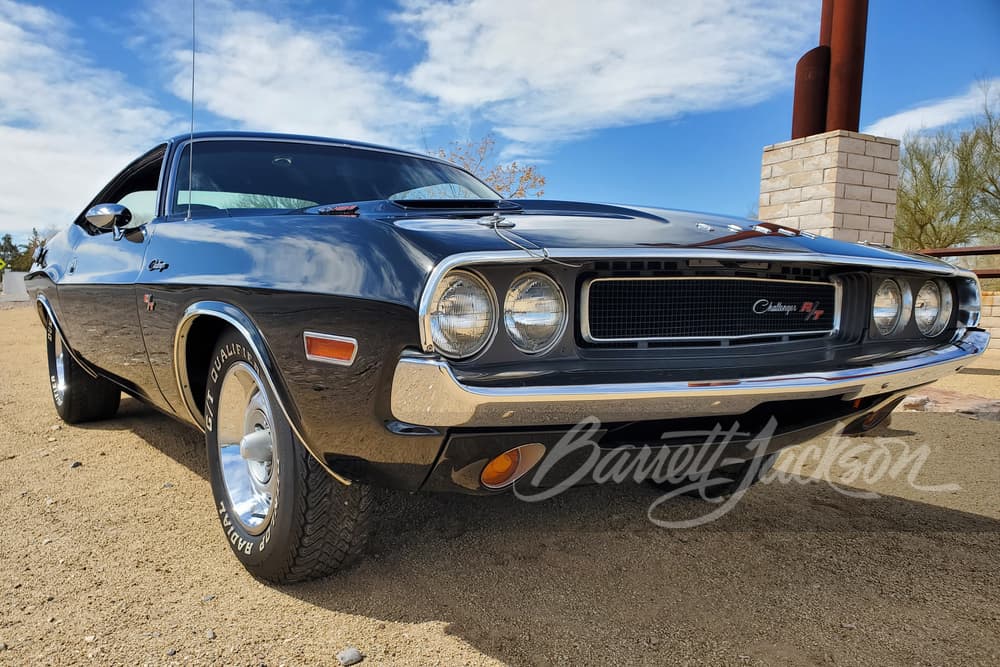 Dodge built 136 Hemi Challengers equipped with a four-speed manual transmission for 1970 and this is one of 23 finished in TX9 Black. An Elite Level Wise Validation Report confirms this to be a numbers-matching car with a race Hemi camshaft and Hooker long-tube headers and the correct New Process A833 four-speed manual transmission delivering power from its 426 cubic inch Hemi V8.
It retains the original Dana 60 rear axle equipped with a Sure-Grip differential and 4.10 ratio gears. It features the Super Track-Pak 7-blade torque drive fan, 26-inch radiator with shroud, Hemi suspension package, and front disc brakes.
It presents well in its original TX9 Black color and benefits from a rotisserie restoration. The interior features bucket-seats, a Rallye instrument cluster with a 150 MPH speedometer and a wood-grain instrument panel. Other features of note include chrome side mirrors, hood pins, AM radio, and 15-inch Rallye wheels equipped with center caps and trim rings.
Until very recently this was a one-family-owned car and it shows 17,805 actual miles.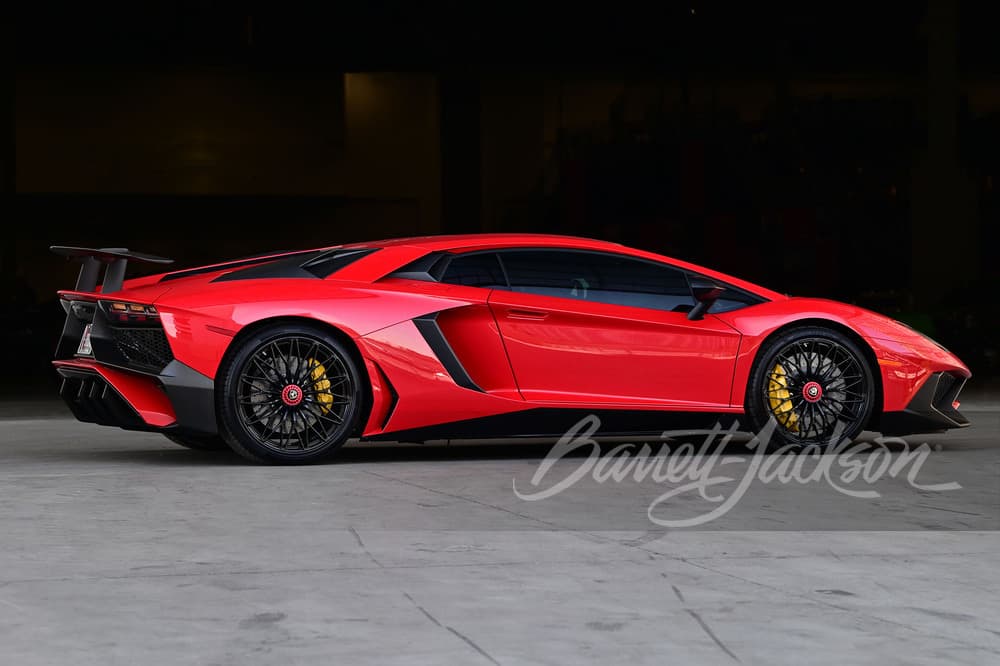 Finished in Rosso Bia, a $14,000 option, this 2016 Lamborghini Aventador LP750-4 Superveloce presents nicely with its Nero Cosmus and Rosso Red interior. This is one of about 200 examples of the LP750-4 Superveloce imported to the US.
Powered by a 6.5L V12 that produces 740 horsepower and 500 lb-ft of torque, it's capable of running from 0 to 62 mph in 2.8 seconds. All that power is delivered through a seven-speed e-gear transmission and this example features an upgraded custom exhaust.
It received its 8-year service in May 2023, at which time it was equipped with new tires. Having covered just 3,155 miles since new, this features all the spaceship-like styling of current Lamborghinis, but at a potentially more affordable price. It should be very fun to watch it hit the block.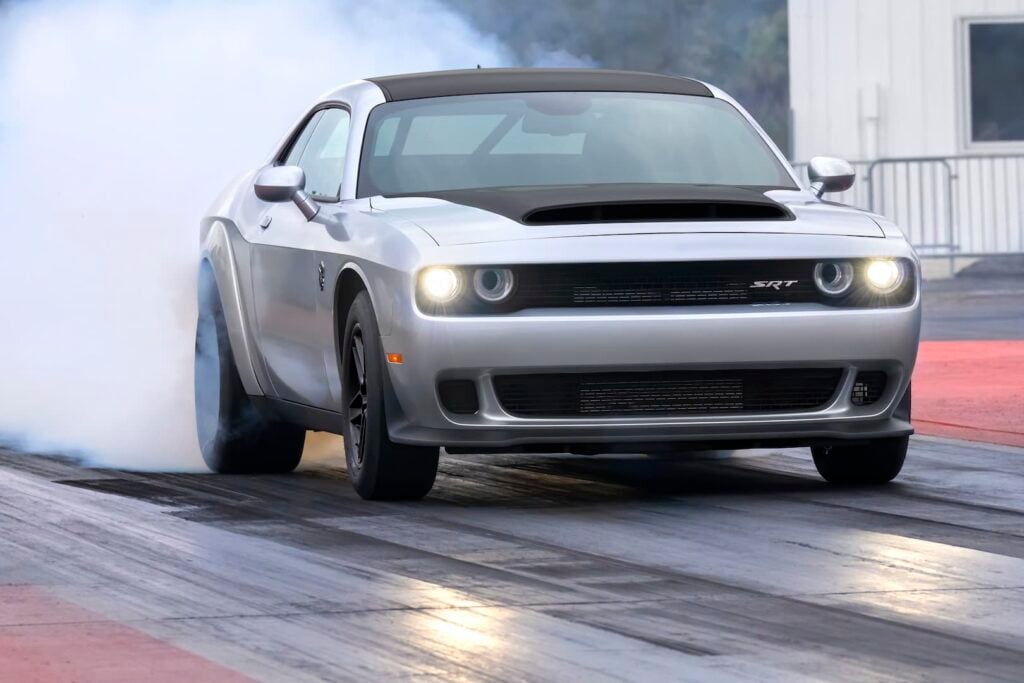 A 6.2L V8 D170 engine that's equipped with a 3.0L supercharger produces 1,025 horsepower for the 2023 Dodge Challenger SRT Demon 170. Factory orders for this scary-fast car are sold out so this seems to literally be the last call for the final Last Call Special Edition from Dodge.
This model is notably banned in its stock form by the NHRA following a quarter-mile time of 8.91 seconds at 151.17 mph. Having seen one of these in person, this car more than lives up to its reputation.
It features a drag suspension, yellow-painted engine block, and four-piston Brembo brakes as well as an SRT spoiler and rear body flares. 100% of the hammer price for this car will benefit Kristi House and the winning bidder will be able to select desired factory options and pick a custom paint color to make this a truly unique car.
This is expected to sell at approximately 3:30 PM PT on June 24, 2023.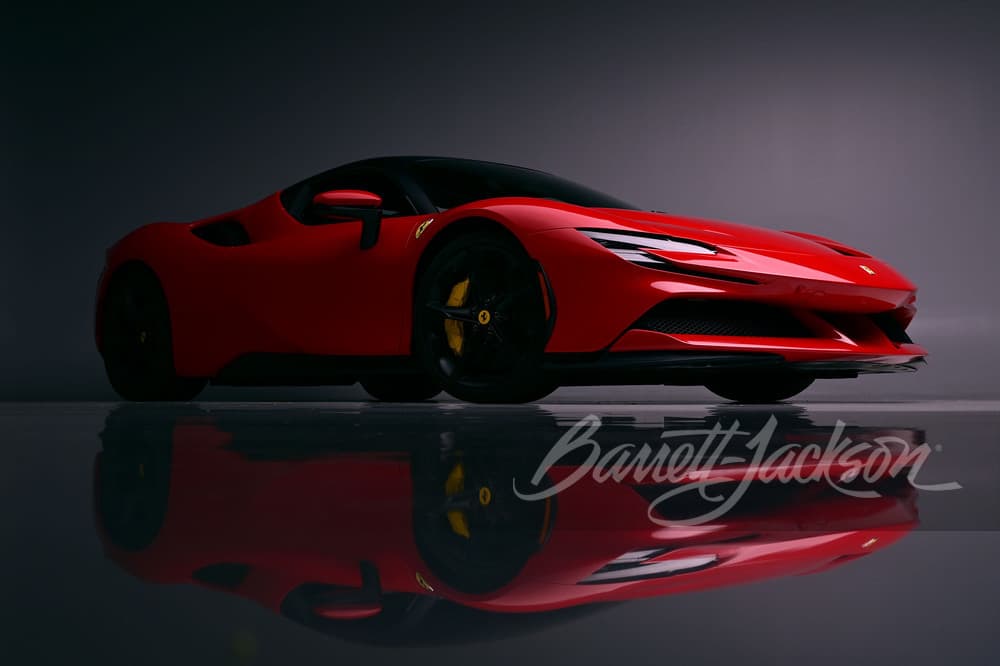 The 2021 Ferrari SF90 hybrid supercar combines a twin-turbo V8 with three electric motors that generate a total of 986 horsepower, meaning this is the most powerful production Ferrari ever built. Thanks to its hybrid powertrain the SF90 runs from 0 to 60 mph in 2.5 seconds.
As is customary with Ferrari a limited number of these are being built – 499 to be exact. Unless someone is a well-known pre-existing customer of Ferrari the only way to get one of these will be second-hand and this example, with just 4.050 miles since new, looks to be well-maintained and as such a solid opportunity to join the Ferrari lifestyle on the heels of their Le Mans triumph.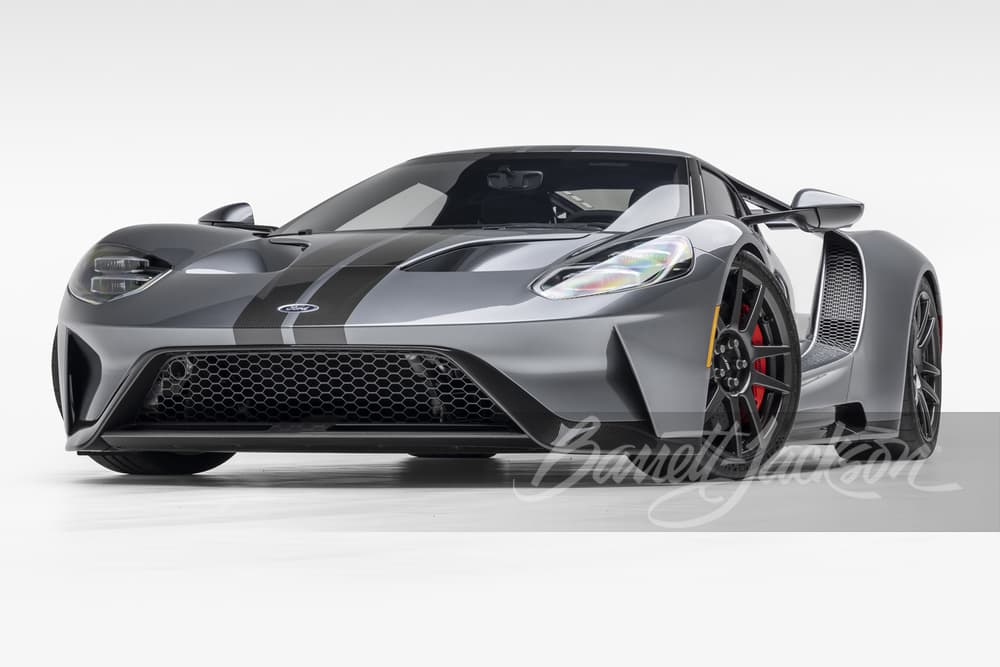 Finished in Liquid Gray with a carbon and Alcantara interior, this 2019 Ford GT is equipped with the Lightweight Package – a $70,000 option. But what does that $70,000 Lightweight Package buy? It reduces the car's total weight by about 40 pounds and features exposed carbon fiber stripes, wheels, a titanium exhaust and a polycarbonate engine cover with improved ventilation.
The twin-turbo 3.5L EcoBoost V6 that powers the Ford GT delivers 647 horsepower and 550 lb-ft of torque through a seven-speed dual-clutch transaxle. Stopping power is provided by six piston Brembo calipers with 15.5 inch discs in front, with four piston calipers and 14.1-inch discs in the rear. The fixed position driver's seat pairs with an adjustable steering column and pedal box, with paddle shifters on the steering wheel.
This is a one-owner car with only 3,223 miles since new and comes with its original window sticker, factory books, build photos, promotional materials, and both indoor and outdoor car covers. As to whether this is worth $70,000 more than an equivalently optioned Ford GT without the Lightweight Package, that's doubtful, although the bidders will get the final word at Barrett-Jackson's Las Vegas 2023 auction.